»
The AMS Scolds Rick Perry for Believing the Oceans are Stronger than Your SUV


Yesterday, the American Meteorological Society (AMS) sent a letter to DOE Secretary Rick Perry, scol ...

»
A Global Warming Red Team Warning: Do NOT Strive for Consensus with the Blue Team


Now that the idea of a global warming Red Team approach to help determine what our energy policy sho ...

»
Spy Satellite to Spy on Spy Satellites?


The May 1 Space-X launch of a classified satellite mission was considered very unusual after amateur ...

»
UAH Global Temperature Update for May, 2017: +0.45 deg. C


The Version 6.0 global average lower tropospheric temperature (LT) anomaly for May, 2017 was +0.45 d ...

»
Good Climate Hunting (D. J. Trump, writer, director)

»
Santer takes on Pruitt: The Global Warming Pause and the Devolution of Climate Science


A new paper in Nature: Scientific Reports by Santer et al entitled Tropospheric Warming Over the Pas ...

»
UAH Global Temperature Update for April, 2017: +0.27 deg. C


The Version 6.0 global average lower tropospheric temperature (LT) anomaly for April, 2017 was +0.27 ...

»
People's Climate March on Saturday…through Snow


You would think that since it's almost May that one could plan a march against global warming ...

»
UAH Shooting Investigation Update, and Thanks


John Christy met with the chief of police at UAH today, and I'm happy to report that, contrary ...

»
Update on Possible Ecoterror Attack at UAH


Ecoterrorism. Eco-terrorism is defined by the Federal Bureau of Investigation as "the use or t ...
»
The effect of Atlantic internal variability on TCR estimation – an unfinished study


A guest article by Frank Bosse (posted by Nic Lewis) A recent paper by the authors Stolpe, Medhaug a ...

»
How dependent are GISTEMP trends on the gridding radius used?


A guest post by Nic Lewis Introduction Global surface temperature (GMST) changes and trends derived ...

»
Centenary of the End of the Battle of the Somme


November 18 marks the centenary of the end of the Battle of the Somme, an event that passed essentia ...

»
The Destruction of Huma Abedin's Emails on the Clinton Server and their Surprise Recovery


Despite extraordinarily intense coverage of all aspects of Hillary Clinton's emails, all comme ...

»
Was early onset industrial-era warming anthropogenic, as Abram et al. claim?


A guest post by Nic Lewis Introduction A recent PAGES 2k Consortium paper in Nature, Abram et al., t ...

»
Re-examining Cook's Mt Read (Tasmania) Chronology


In today's post, I'm going to re-examine (or more accurately, examine de novo) Ed Cook ...

»
Esper et al 2016 and the Oroko Swamp


Jan Esper, prominent in early Climate Audit posts as an adamant serial non-archiver, has joined with ...

»
Gergis and Law Dome


In today's post, I'm going to examine Gergis' dubious screening out of the Law Dom ...

»
Joelle Gergis, Data Torturer


In 2012, the then much ballyhoo-ed Australian temperature reconstruction of Gergis et al 2012 myster ...

»
Gergis


redirect to here

Posted by Qiao Teng
OST to PST Converter tool to Deal with OST file th[more ...]
06/29 04:33

Posted by kieroS
If you want to repair PST file, you should definit[more ...]
06/29 00:00

Posted by Anonymous
OST to PST Converter extracts all the email compon[more ...]
06/28 04:13

Posted by Anonymous
dr farin
06/28 00:57

Posted by alannahmeehan
Make use of EDB to PST Converter Software(http://w[more ...]
06/26 23:27

Posted by SylvesterCalderon
It is extremely significant that your essay ought [more ...]
06/26 05:02

Posted by patrickavage
Now, you can easily recover your lost data from MS[more ...]
06/24 06:47

Posted by Marjokarpela
User can repair PPT file by using Recover files da[more ...]
06/23 03:51

Posted by Anonymous
If you have OST file and want to convert OST to Ou[more ...]
06/21 23:26

Posted by Anonymous
If you have OST file and looking for suitable solu[more ...]
06/21 23:22

License Plate Frames
Support the Truth


"SKEPTIC"




"It`s Natural"




"Liberty"

* MORE *
Strong and durable metal license plate holder. Uses full color high resolution images. UV and Water Protection. Satisfaction Guaranteed

You can now visit us on your mobile phone! Simply goto http://GlobalWarmingHoax.com on your mobile phone or PDA to get started!
One Fewer Carbon Dioxide Spewer
Admin
, Wednesday 01 September 2010 - 21:12:09 //

comment: 11
//

// Font Size -
Increase
/
Decrease
/
Reset
Is global warming rhetoric leading to environmental terrorism? Is it pushing some people over the edge. It obviously contributed to James Lee's rampage.No Longer Supported
We couldn't decide on the title for this article, there were just too many good one's! Like: "Environmentalist Dies of Lead Poisoning", "Greenie Pushing Up Daisies", "Environmental Terrorist
Discovers
The Truth". (do you have any more possible headlines? Post them as comments.)
OK, enough fun. On September 1st James Lee stormed in to the Discovery Channel building with a gun and said he had a bomb, he then took several people hostage. After his bomb failed to go off (it did fizzle and produce smoke) he pointed a gun at the hostages and was shot and killed by police.
Most of you know that the environmental terrorists are a real problem in this country. People have died, businesses have been burned, and good people harassed. One of these went too far today. James Lee had been protesting at the Discovery Channel building for over 2 years. Reports indicate that he had even paid homeless people to protest with him.
Lee said that the Discovery Channel wasn't doing enough stories about how man was destroying the planet through global warming. He also was very much against what he called "pollution babies", "FIND SOLUTIONS FOR THEM TO STOP THEIR HUMAN GROWTH AND THE EXPORTATION OF THAT DISGUSTING FILTH!". You can read his
full anti-human manifesto here
. Lee is not some lone nutcase, many prominent leftist environmental wackos have said publicly that they'll be
glad when humans are gone from this planet
.
One has to wonder how much of an investigation is going to take place to see if there were any co-conspirators or if he was funded by any environmental groups. Much of the main stream news media isn't even reporting that Lee had an environmental agenda, much less that he had admitted to becoming extreme after watching Al Gore's "An Inconvenient Truth". See Fox News for the
full story
. At some of his protests he would throw money to the crowd and said that money was nothing more than "trash", he paid homeless people to protest with him, and he awarded $1,000 cash prizes for environmental prize winning essays. Where did all of this money come from? Lee was long time unemployed.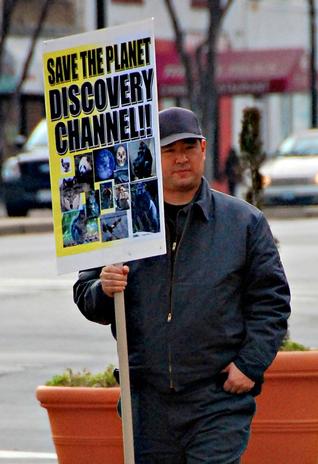 Share or Bookmark this Article Using:
| furl

| reddit

| del.icio.us

| magnoliacom

| digg

| newsvine

| Stumble_it

| Facebook

| Google

| Fark

| Sphere

| Netscape

| Technorati

| Yahoo!

|
Add to Favorites and Additional Bookmarks:
GlobalWarmingHoax.com - Where the Truth Heats Up ™
Threads: 2214 | Replies: 1183 | Views: 7630331