»
UAH Global Temperature Update for September, 2017: +0.54 deg. C


The Version 6.0 global average lower tropospheric temperature (LT) anomaly for September, 2017 was +0.54 deg. C, up from the August, 2017 value of +0.41 deg. C (click for full size version): The global, hemispheric, and tropical LT anomalies from the 30-year (1981-2010) average for the last 21 months are: YEAR MO GLOBE NHEM. SHEM. […]

»
The Monty Hall Problem: There Is No Correct Answer


A diversion from global warming topics. The simple little probability problem below has apparently b ...

»
The 11-Year Major Hurricane Drought: Much More Unusual than Two Cat 4 Strikes


Weather.com published an article noting that the two Cat 4 hurricane strikes this year (Harvey and I ...

»
Cracks in the Empire's Armor Appear


Yesterday brought widespread news coverage of a new "study" published in Nature Geoscien ...

»
Inevitable Disaster: Why Hurricanes Can't Be Blamed On Global Warming


Partly in response to the crazy claims of the usual global warming experts (Stevie Wonder, Beyonc ...

»
UAH Global Temperature Update for August, 2017: +0.41 deg. C


The Version 6.0 global average lower tropospheric temperature (LT) anomaly for August, 2017 was +0.4 ...

»
Houston Area Flooding Seen from Space


Today the skies cleared enough to see the huge amount of water flowing out of southeast Texas and Ho ...

»
Texas Major Hurricane Intensity Not Related to Gulf Water Temperatures


As the Houston flood disaster is unfolding, there is considerable debate about whether Hurricane Har ...

»
Why Houston Flooding Isn't a Sign of Climate Change


In the context of climate change, is what we are seeing in Houston a new level of disaster which is ...

»
Hurricane Harvey: 1 Million Hiroshima Bombs per Day


Mother Nature routinely deals with huge amounts of energy. In the case of hurricanes, some of the so ...

Posted by Anonymous
I would like to suggest you to use freeware OST to[more ...]
10/22 22:44

Posted by Anonymous
[ REQUIRES ADMIN APPROVAL ]
10/21 12:59

Posted by Anonymous
good article.. click
10/20 23:10

Posted by Anonymous
What you are doing deserves great praise, perhaps [more ...]
10/20 06:44

Posted by Anonymous
Thanks for the great site, here I found not only c[more ...]
10/20 06:36

Posted by Anonymous
A good and informative topic of this site, I belie[more ...]
10/20 06:35

Posted by Anonymous
I liked discussing this issue in your forum, I als[more ...]
10/20 06:33

Posted by Bella Swella
For long time, I have been looking for a conversio[more ...]
10/20 06:14

Posted by Maria Hirthe
Want to know to how to import email from Outlook t[more ...]
10/20 06:06

Posted by Anonymous
[ REQUIRES ADMIN APPROVAL ]
10/20 05:58

License Plate Frames
Support the Truth


"SKEPTIC"




"It`s Natural"




"Liberty"

* MORE *
Strong and durable metal license plate holder. Uses full color high resolution images. UV and Water Protection. Satisfaction Guaranteed

You can now visit us on your mobile phone! Simply goto http://GlobalWarmingHoax.com on your mobile phone or PDA to get started!
One Fewer Carbon Dioxide Spewer
Admin
, Wednesday 01 September 2010 - 21:12:09 //

comment: 11
//

// Font Size -
Increase
/
Decrease
/
Reset
Is global warming rhetoric leading to environmental terrorism? Is it pushing some people over the edge. It obviously contributed to James Lee's rampage.No Longer Supported
We couldn't decide on the title for this article, there were just too many good one's! Like: "Environmentalist Dies of Lead Poisoning", "Greenie Pushing Up Daisies", "Environmental Terrorist
Discovers
The Truth". (do you have any more possible headlines? Post them as comments.)
OK, enough fun. On September 1st James Lee stormed in to the Discovery Channel building with a gun and said he had a bomb, he then took several people hostage. After his bomb failed to go off (it did fizzle and produce smoke) he pointed a gun at the hostages and was shot and killed by police.
Most of you know that the environmental terrorists are a real problem in this country. People have died, businesses have been burned, and good people harassed. One of these went too far today. James Lee had been protesting at the Discovery Channel building for over 2 years. Reports indicate that he had even paid homeless people to protest with him.
Lee said that the Discovery Channel wasn't doing enough stories about how man was destroying the planet through global warming. He also was very much against what he called "pollution babies", "FIND SOLUTIONS FOR THEM TO STOP THEIR HUMAN GROWTH AND THE EXPORTATION OF THAT DISGUSTING FILTH!". You can read his
full anti-human manifesto here
. Lee is not some lone nutcase, many prominent leftist environmental wackos have said publicly that they'll be
glad when humans are gone from this planet
.
One has to wonder how much of an investigation is going to take place to see if there were any co-conspirators or if he was funded by any environmental groups. Much of the main stream news media isn't even reporting that Lee had an environmental agenda, much less that he had admitted to becoming extreme after watching Al Gore's "An Inconvenient Truth". See Fox News for the
full story
. At some of his protests he would throw money to the crowd and said that money was nothing more than "trash", he paid homeless people to protest with him, and he awarded $1,000 cash prizes for environmental prize winning essays. Where did all of this money come from? Lee was long time unemployed.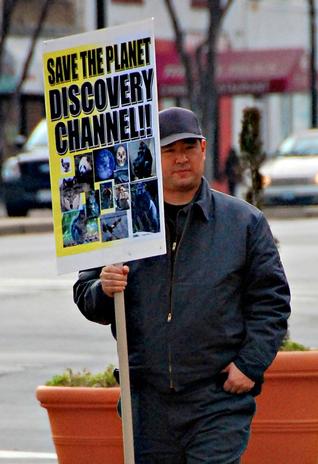 Share or Bookmark this Article Using:
| furl

| reddit

| del.icio.us

| magnoliacom

| digg

| newsvine

| Stumble_it

| Facebook

| Google

| Fark

| Sphere

| Netscape

| Technorati

| Yahoo!

|
Add to Favorites and Additional Bookmarks:
GlobalWarmingHoax.com - Where the Truth Heats Up ™
Threads: 2281 | Replies: 1325 | Views: 7873214