»
Alaska: Global warming blamed for 'chilly' spring and 'cool' summer

»
Study claiming models predicting too much warming 'may be a ploy' – 'We were wrong, but only in the timing' of disaster


Spencer writes that the climate establishment may be trying to address the growing disparity between ...

»
As plausible as Gore's claims: Exorcist sees recent hurricanes as sign of an imminent biblical apocalypse


Exorcist Don Antonio Mattatelli: "All natural disasters, such as hurricanes and earthquakes, demonst ...

»
Barbuda's Ambassador blames Irma on AGW caused by 'profligacy of countries that are rich, & have abused the system'


Ambassador Ronald Sanders, Antigua and Barbuda's ambassador to the U.S.: The global community must a ...

»
Meteorologist rips warmist Holthaus for 'misleading' on hurricanes – Reaffirms 'hurricanes are not becoming more intense'


Michael Mogil: "One must recognize that there has been a dramatic change in global observing and for ...

»
How the Democratic Party Has Incurred Major Electoral Losses by Its Mistaken Support for Climate Alarmism

»
Climate Model Projections Significantly Diverge from Paleoclimate Analogs

»
Rex Murphy: All Global Warming Predictions Are Infallible… Until They're Not


Instead, they issue the findings of the prestigious scientific oracle, Nature Geoscience, and the pu ...

»
Mass global extinction that wipes out human civilization will begin in 2100, mathematician predicts

»
UN Admits It Can't Link Global Warming To The Spike In World Hunger, Then Does It Anyway


Posted by Soya
We can deal with a crying baby, a snoring pensione[more ...]
09/26 00:49

Posted by Soya
Direct action can work to achieve change – just as[more ...]
09/26 00:36

Posted by Anonymous
Thanx for sharing such useful post keep it up[more ...]
09/25 00:30

Posted by Anonymous
Positive site. where did u come up with the inform[more ...]
09/24 04:31

Posted by Anonymous
Positive site. where did u come up with the inform[more ...]
09/24 04:29

Posted by Anonymous
I'm getting excited about this kind of beneficial [more ...]
09/21 23:16

Posted by Anonymous
Using an effective professional EDB to PST recover[more ...]
09/21 03:12

Posted by Alaina
I have recently planned to travel Malaysia from US[more ...]
09/20 06:10

Posted by Anonymous
I esteem your attempts in setting Independent Call[more ...]
09/20 03:30

Posted by Anonymous
I concur, some incredible tips to help anybody wit[more ...]
09/19 08:25

License Plate Frames
Support the Truth


"SKEPTIC"




"It`s Natural"




"Liberty"

* MORE *
Strong and durable metal license plate holder. Uses full color high resolution images. UV and Water Protection. Satisfaction Guaranteed

You can now visit us on your mobile phone! Simply goto http://GlobalWarmingHoax.com on your mobile phone or PDA to get started!
Antarctic Sea Ice for March 2010 Significantly Greater Than 1980
Admin
, Tuesday 06 April 2010 - 21:14:32 //

comment: 1
//

// Font Size -
Increase
/
Decrease
/
Reset
Contrary to media reports Antarctic sea ice continues to expand. Ice totals for March 2010 are significantly higher than 1980. The main stream media concentrates on a couple of small areas of the Antarctic in order to scare you in to believing that Antarctica is melting, when in fact its gaining ice.
No Longer Supported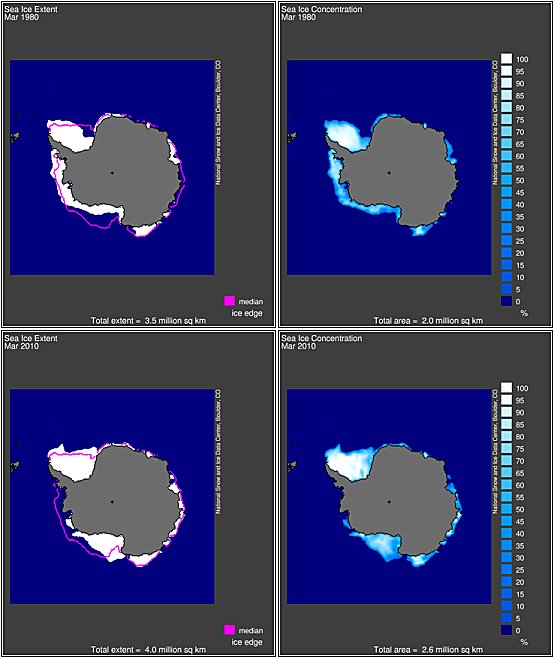 From the National Snow and Ice Data Center, University of Colorado
Antarctic Sea Ice for March 1980 and 2010
              Extent                   Concentration
2010     4.0 million sq km          2.6 million sq km
1980     3.5 million sq km          2.0 million sq km

Sea Ice Extent in March 2010 is over 14% greater than in 1980
Sea Ice Concentration in March 2010 is 30% greater than in 1980!
Since measurements began in 1979 antarctic sea ice has continued to expand, contrary to what the news media would have you believe. We bring this information to you month after month and still there is no sign of the main stream media picking up on the story. They continue to discuss the relatively small areas of the Western Antarctic Peninsula that are melting due to changes in ocean currents.
You may have heard that some of the "computer models" predicted increases in antarctic ice, but they predicted increased "interior ice" due to increased snow fall.
None
of the models predicted increased sea ice around the antarctic. Yet that is what we have, more sea ice in March 2010 than what we had in March of 1980. This is highly significant yet hardly anyone in the main stream media (MSM) is talking about it.
Sea ice is much different than interior ice. Some of the computer models predicted increased ice over the interior of antarctic. If you've ever lived in the extreme cold temperature regions you already understand the reason why. When it gets very cold the air become drier and it snows less, as the temperature warms towards freezing it actually snows more. Since the antarctic rarely even gets close to freezing its understandable that warming would cause more snow fall. Over time compacted snow would lead to more ice. But that is not what is happening here. We're seeing increases in "sea ice", this ice is over the ocean. Sea ice is caused by colder temperatures, not by increased snow fall. But we hear nothing from either the MSM or the scientific community. Especially compared to the out 6%-7% decrease at the arctic (this isn't year over year, this is a 6% decline since 1980!).
This continues a long trend of increasing sea ice that has been noted here for several months.
Share or Bookmark this Article Using:
| furl

| reddit

| del.icio.us

| magnoliacom

| digg

| newsvine

| Stumble_it

| Facebook

| Google

| Fark

| Sphere

| Netscape

| Technorati

| Yahoo!

|
Add to Favorites and Additional Bookmarks:
GlobalWarmingHoax.com - Where the Truth Heats Up ™
Threads: 2265 | Replies: 1278 | Views: 7821464