Global Warming Hoax News From Around the WebWorld Climate Report
»
A Classic Tale of Global Warming Alarmism
»
More Evidence Against a Methane Time Bomb
»
Agriculture: Tropical Cyclones are Welcome Visitors
»
Sea Level Acceleration: Not so Fast
»
Hansen Is Wrong
»
Earth's Carbon Sink Still Strong and Growing
»
Wild Speculation on Climate and Polar Bears
»
Illiteracy at NASA
»
The Heat Was On—Before Urbanization and Greenhouse Gases
»
What's to Blame for the Rains on the Plains?
***
NewsBusters - Global Warming
»
Sen. Whitehouse Blames GOP For Okla. Tornado, Storms, Rising Seas, Etc.
»
Comedy Central 'Daily Show' Creator: Oklahoma Tornado 'Ordered to Only Target Conservatives'
»
MSNBC's Hayes Plugs 'Incredible Story' of Felon Who Disrupted Oil Lease Auction
»
TIME's Kluger Warns Manhattan Residents Could Soon Be 'Swimming' Due to Global Warming
»
NYT's Gillis, Writing Under False Headline, Rants Against Warming Skeptics With 'Little Scientific Credibility'
»
Dennis Miller Slams 'Phony,' 'Detestable' Al Gore, 'Everybody Should Shun'
»
British Journalist Melanie Phillips: Environmentalists 'Wrench' Evidence to Fit Climate Conclusions
»
Professors Publish Picture of Them Burning Book Refuting Global Warming
»
CA Dem: Global Warming Will Force Women Into Prostitution
»
Billionaire Tom Steyer -- the 'Liberal Analogue of the Koch Brothers'
»
ABC Celebrates Earth Day By Pushing Carbon Taxes, Touting Anti-Keystone 'Agitator'
»
Environmentalism of Sam Champion, Who Previously Hyped Avoiding Toilet Paper, Now Mostly Ignored
»
U.S. Carbon Emissions Have Dropped Thanks To Free Market Economics, Natural Gas Exploration
»
Senator: Climate Change Must Be 'Right Behind Immigration and Gay Rights As An Issue'
»
As Latest Global Warming Scare Report Crumbles, Where's the New York Times's Follow-Up?
»
Matthews Trashes Republicans With New Conspiracy Theory Poll, Ignores Democrat Responses
»
Ted Turner Tells Obama to Get 'Climate Change Under Control'
»
WaPo Omits Bad Pew Study Numbers On Global Warming
»
Higher Gas Prices the 'Price of Cleaner Air'
»
Al Roker Appalled by Poll Showing 37 Percent Believe Global Warming is a Hoax
***
Science and Public Policy Institute
»
Spinning the Climate, The Intergovernmental Pannel on Climate Change (IPCC)
»
Interactive Effects of Temperature and Enhanced C02 on Agricultural Crops
»
Atmospheric Methane Concentrations
»
Solar Influence on Temperatures in Europe
»
Solar Influence on Climate: Cosmic Rays
»
Request for Correction of Serious Inaccuracy
»
Cook "The Books" is Wrong to Slam Roy Spencer
»
Is C02 Mitigation Cost-Effective?
»
Solar Influence on Global Temperature
»
Evidence of a Medieval Warm Period in Antarctica
»
Analysis of US and State-by-State Carbon Dioxide Emissions & Potential "Savings" in Future Global Temperature & Global Sea Level Rise
»
Storm Trends Across the North Atlantic Ocean
»
Drought Trends Across the Eastern United States
»
Storm Trends Across North America
»
Historical Response of Heat Waves to Global Air Temperature
»
Drought Trends Across the Western United States
»
Drought Trends in the Northern Great Plains, USA
»
Precipitation Variability in Europe
»
Historical Trends of Atlantic Basin Tropical Cyclones
»
Historical Flood Trends in Europe
»
Precipitation Variability in Asia
»
Effects of Atmospheric C02 Enrichment on Wood Density
»
Drought Trends in Asia
»
No Global Warming for Almost Two Decades
»
Droughts in South America
***
Climate Science: Roger Pielke Sr. Research Group
»
2012 Climate Science Weblog in Review by Dallas Jean Staley – A Guest Post
»
The Weblog Is Retiring
»
Publication Of "Reply to "Comment On 'Ocean Heat Content And Earth's Radiation Imbalance. II. Relation To Climate Shifts' " by Nuccitelli Et Al. By Douglass and Knox 2012
»
Q&A From A Group Of Retired NASA Personnel And Associates
»
The Importance of Land Use/Land Practices On Climate – A Perspective From Jon Foley
»
Interview With James Wynn In The English Department At Carnegie Mellon University
»
University Of Alabama At Huntsville October 2012 Lower Tropospheric Temperature Analysis
»
USA Election Day 2012
»
New Paper "Climatic Variability Over Time Scales Spanning Nine Orders of Magnitude: Connecting Milankovitch Cycles With Hurst–Kolmogorov Dynamics" By Markonis And Koutsoyiannis
»
New Paper "Indian Ocean Warming Modulates Pacific Climate Change" By Luo Et Al 2012
***
»
PAGES2K Online "Journal Club"
»
Cook's Survey
»
More Kaufman Contamination
»
Gifford Miller vs Upside-Down Kaufman
»
Steig's Bladeless "Hockey" Stick
»
Non-centring in the Forest 2006 study
»
PAGES2K Reconstructions
»
PAGES2K South America
»
PAGES2K, Gergis and Made-for-IPCC Journal Articles
»
The Hockey Team and Reinhart-Rogoff
***
Watts Up With That?
»
Quote of the week – misplaced priorities
»
SkepticalScience Now Argues Against Foster & Rahmsorf (2011)
»
The Collapsing 'Consensus'
»
Global Warming Policy Foundation Invites Royal Society Fellows For Climate Change Discussion
»
Model Climate Sensitivity Calculated Directly From Model Results
»
Stop global warming, get paid $12-13 per hour
»
Senator Whitehouse apologizes for inciteful tornado remarks
»
Widespread evidence of cosmic impact documented – likely cause of the Younger Dryas cool climate episode
»
Oklahoma tornado officially an EF5 – wind speeds still less than 1999 Moore tornado
»
Stunning ignorance on display from Senator Barbara Boxer over Oklahoma tornado outbreak
»
Cook's 97% consensus study falsely classifies scientists' papers according to the scientists that published them
»
US Senator Sheldon Whitehouse From Rhode Island Provides Erroneous Information To American Public in Global Warming Rant
***
Global Warming News
»
No Fine If Wind Farm Kills Endangered Condors — Fish and Wildlife Service
»
Gina McCarthy's Responses to Sen. Vitter's Questions Part II: Fuel Economy
»
EPA Demonstrates IRS-like Bias on FOIA Requests
»
WSJ Op-Ed Explains Benefits of CO2
»
Gina McCarthy's Responses to Sen. Vitter's Questions Part I: Bait-and-Fuel-Switch
»
CO2 Litigation: Court and EPA Can't Both Be Right — and Both May Be Wrong
»
EPA Doubles Down on E15 — Literally
»
Senate Schedules Vote for EPA Nominee
»
Biofuels Policy Itself is Warning That It's Near Breaking Point
»
Hansen Compares Conservatives and Climate Change Skeptics to Neanderthals
***
Fox News - Climate Change Stories
»
Democratic senator apologizes for citing Okla. tornadoes in climate change speech
»
What happens when Google and NASA build a computer?
»
More tornadoes from global warming? Nobody knows
»
Sea turtle comeback in a corner of the Caribbean
***
Michelle Malkin - Enviro-Nitwits
»
Dueling headlines — 'Is is hot in here or is Al Gore crazy?' edition
»
News flash: Al Gore still trying to get everybody to panic
»
A grisly Earth Day reminder: Eco-pacifist fraud Ira Einhorn, a killer in P.C. clothing
»
Federal study concludes man-made climate change not cause of 2012 drought
»
Taxpayer-backed Fisker lays off 75 percent of workforce; poor sales attributed to global shortage of people named Leonardo DiCaprio
***
DailyTech Michael Asher`s blog
»
Will the Real Antarctica Please Stand Up?
»
Global Warming May Decrease Hurricanes, Research Suggests
»
Japanese Report Disputes Human Cause for Global Warming
»
Sea Ice Ends Year at Same Level as 1979
»
A Funny Thing Happened on the Way to the (Climate) Forum
»
Climate Report Downgrades Ice Loss; Media Reports Opposite
»
Princeton Physicist Calls Global Warming Science "Mistaken"
»
Defying Predictions, Sea Level Rise Begins to Slow
»
Electric Car Sales in Freefall; Industry Risks Collapse
»
Glaciers in Norway Growing Again
***
C3 - Climate Cycles Change
»
Revealed: Michael Mann Has Twin Who Is Even Dumber - Works For Mainstream Press Outlet
»
Confirmed: 68% of Recent Peer Reviewed Studies Reject Catastrophic Global Warming Disaster Predictions
»
Obama Administration's View On Disappearance of Global Warming - "I Don't Know"
»
Simple, Basic Factual Truths: Dangerous, Accelerating Global Warming Does Not Exist
»
Global Warming: Fabrication of Misleading Temperature Data By IPCC Related Scientists Continues
»
Michael Mann's Scary New Sea Level Predictions Identified As Bogus, Confirms 97% Consensus That He Fibs
»
Reality Wake-Up Call: Climate "Experts" Sea Level Prediction Found To Be Wildly Wrong
»
Multiple Proxy Study Confirms "Global Warming" Skeptic Views - Modern Temps Not Unprecedented, Not Global
»
New Major Study Determines Dangerous, Accelerating Sea Levels Due To CO2 Emissions Is Fantasy
»
The Known Physics of Global Warming Vs. The Anti-Science of Green-Fundamentalists
»
Fact Check: Rice Crop Yield Improves With Global Warming, Higher CO2 Levels - Opposite of Alarmist Predictions
»
Boiling Oceans? Warming of Oceans On Path To +0.16°C Increase Over Next 100 Years Say Experts
»
IPCC Climate Science Confirmed By NOAA: Global Warming Causes Global Cooling
»
Newly Released Evidence Establishes That Arctic Region Was Warmer During Medieval Period
»
Stuck-On-Stupid: Majority of Mainstream Journalists Too Stupid To Recognize Failure of CAGW Climate Science
***
CATO - Global Warming
»
Amartya Sen Wrong in His Claim That Delay in Food Bill Killing a Thousand Every Week
»
Our Indispensable Government
»
Restrain the Abusive Administative State
»
Why Obama Is Silent on Killed Babies
»
Hot Money, Cold Credit
»
'Impeachment' Is Not a Four-Letter Word
»
Delivering Serbs to the Wolves
»
Why the IRS Cannot Be Reformed
»
The Islamic Republic of Pakistan: The World's Most Dangerous Nation Holds an Election
»
Common Core Needs More Debate
»
Evolving out of Inefficient Corruption
»
Denigrating Medicine: ObamaCare Turns Physicians into Assembly Line Workers
»
Is the Government Spying on Reporters More often than We Think?
»
Hospital Lobby Fears They Might Not Get Medicaid Subsidies
»
Obama's War on the Young
»
Why People Keep Misunderstanding the 'Connection' between Race and IQ
»
Blame Campaign Finance Crusaders for IRS Mess
»
At Last, Justice for Locked-in Juveniles?
»
U.S. Defense Cuts: An Ax Is Needed, Not a Scalpel
»
Putting out the Welcome Mat for Prosperity
»
Nothing to Joke about in a Partisan IRS
»
The Perils of Religious Persecution in Iran
»
Immigration's Clear Benefits
»
Electoral College Was Framers' Antidote to Popular Vote
»
Fast Growth Will Save Lives Not the Food Security Bill
***
CanadaFreePress - Global Warming
»
Prince Charles: Too "Green" to be King?
»
Dem Sen. Boxer blames tornadoes on global warming
***
More Global Warming Hoax News Feeds

---
Since Exxon Hasn't Sent Us Our First Million Dollars Yet You're Welcome To Help Pay Our Bills Until They Do.










»
Democratic Senator Whitehouse apologizes for citing Okla. tornadoes in climate change speech — 'Regrets the timing of his speech'

»
Dem Sen. Boxer blames tornadoes on global warming — Plugs her carbon tax bill to fix bad weather: 'This is climate change. We were warned about extreme weather…We need to protect our people' – 'Carbon could cost us the planet'


Via POLITICO's Morning Energy – May 21, 2013: BOXER RINGS THE BELL ON CLIMATE CHANGE: Sen. Bar ...

»
Antarctic Sea Ice Extent Set A New Daily Record on May 20: 'Breaking the old record set in 2000 by 66,000 sq km. 2013 is now in 6th place for daily records set'

»
Sen Whitehouse enters realm of buffoonery: Analysis: US Sen. Sheldon Whitehouse From Rhode Island Provides Erroneous Information To American Public in Global Warming Rant'

»
1970s Global Cooling Scare: 'Almost every major climate organization endorsed the 1970s ice age scare, including NCAR, CRU, NAS, NASA – as did the CIA' — Sound Familiar?!

»
DEATH WISH: Flashback 2009: Nobel-Winning Warmist Economist Thomas Schelling 'Wished' for 'tornadoes' and 'a lot of horrid things' to convince Americans of climate threat!

»
Retraction Watch: Warmist John Cook's 97% consensus study falsely classifies scientists' papers according to the scientists that published them

»
Retraction Watch: Warmist John Cook claimed that papers by skeptics Craig D. Idso, Nicola Scafetta, and Nir J. Shaviv endorsed CO2-induced global warming?

»
Deadly Oklahoma Tornadoes – When CO2 Was Below 320 PPM

»
Bill Nye 'the Science Fool' on CNN: Claims: Higher average global temperature provides heat for tornadoes

»
NYT's Andrew Revkin: 'Any influence of climate change on dangerous tornadoes (so far the data point to a moderating influence) is, at best, marginally relevant and, at worst, a distraction'

»
Warmist John R. Talbott at Huffington Post suggests that the Oklahoma tornado is a wake-up call from God — Declares it a 'Man-Made Disaster'

»
Amherst, MA Presentation, March 7


I will be rolling out version 3.0 of my presentation on climate that has already been around the Int ...

»
Climate De-Bait and Switch


Dealing with facile arguments that are supposedly perfect refutations of the climate skeptics ...

»
Lame, Desperate Climate Alarm Logic


Via Kevin Drum: Chris Mooney reports today that there's also a very simple reason: global warm ...

»
Extrapolating From A Single Data Point: Climate and Sandy


I have a new article up at Forbes on how crazy it is to extrapolate conclusions about the speed and ...

»
A Great Example of How The Climate Debate is Broken


A climate alarmist posts a "Bet" on a site called Truthmarket that she obviously believe ...

»
I Was Right About Monnett


When the news first came out that Charles Monnett, observer of the famous drowned polar bear, was un ...

»
Lewandowsky et al. Proves Skeptics are Reasonable and Pro-Science


I am not sure it is worth beating this dead horse any further, but I will make one final observation ...

»
Worst Study Ever?


I have to agree with JoNova, the Lewandowsky study ostensibly linking climate skeptics to moon-landi ...

»
I Was Reading Matt Ridley's Lecture at the Royal Society for the Arts….


… and it was fun to see my charts in it!  The lecture is reprinted here (pdf) or here (html) o ...

»
Still Toying With Security


If you hit an unexpected error, or worse, seem to have been banned, email me at the link on this pag ...
»
PAGES2K Online "Journal Club"


I'm listening to a presentation by PAGES2K authors sponsored by Nature: http://blogs.nature.co ...

»
Cook's Survey


John Cook, whose crush on Lewandowsky continues unabated, asked various blogs, including Climat Audi ...

»
More Kaufman Contamination


Kaufman and paleo peer reviewers ought to be aware that the recent portion of varve data can be cont ...

»
Gifford Miller vs Upside-Down Kaufman


Darrell Kaufman, lead PAGES2K author, has promoted varvology for Arctic temperature reconstructions. ...

Posted by reeti
http://cureallergyasthma.com In normal cases the p[more ...]
05/15 01:49

Posted by Anonymous
We are professional in supplying Cabal Alz, Cabal [more ...]
04/23 23:47

Posted by Anonymous
Welcome to WOW Gold Online Store, Runescape 2007 G[more ...]
04/23 23:45

Posted by Anonymous
we are Cheapest Online Aion gold aion kinah store [more ...]
04/23 23:44

Posted by Anonymous
Buy cheap Dragon Nest Gold from Safe online Store [more ...]
04/23 23:41

Posted by Anonymous
Moneyb ooker and so on with fast and safe. Guild W[more ...]
04/23 23:39

Posted by Anonymous
[ REQUIRES ADMIN APPROVAL ]
04/23 23:30

Posted by Anonymous
I am interested in this topic and would like to fi[more ...]
04/20 03:38

Posted by Anonymous
I truly enjoyed reading it, you will certainly be [more ...]
04/20 03:36

Posted by Anonymous
I would like to say thank for sharing this great a[more ...]
04/20 03:34
You must be logged in to post comments on this site - please either log in or if you are not registered click
here
to signup

License Plate Frames
Support the Truth


"SKEPTIC"




"It`s Natural"




"Liberty"

* MORE *
Strong and durable metal license plate holder. Uses full color high resolution images. UV and Water Protection. Satisfaction Guaranteed


You can now visit us on your mobile phone! Simply goto http://GlobalWarmingHoax.com on your mobile phone or PDA to get started!
"Geologic Evidence of the Cause of Global Warming and Cooling — Are We Heading for Global Catastrophy?"
on Thursday 29 May 2008
by Admin




in No Consensus
comments: 0
Dr. Don J. Easterbrook, Professor Emeritus Geology, Western Washington University is the author of 8 books, 150 journal publications with a focus on geomorphology; glacial geology; Pleistocene geochronology; environmental and engineering geology (for a summary of his impressive bio
click here
). He voted for Al Gore in 2000 but now can't forgive him for turning scientific debate in to outrageous propaganda. He has called NASA's James Hansen a "so-called climatologist" "who says things that are idiotic".
It would seem that Geologists who have spent a lifetime studying the long history of the earth have little time for people that don't know what they're talking about. But we've pointed out for sometime that geologists, and even paleontologists, are much less likely to believe in anthropogenic global warming than say a chemist or climatologist. Why? Because they've seen this type of climate change happen many times before, in the history of the rocks and fossils that they study. Dr. Easterbrook does an excellent job of pointing out how current climate conditions pale in comparison to even recent historical climatic events.
Here is how Dr. Easterbrook describes his manuscript:
"The purpose of this paper is not to present a comprehensive review of all of these issues (that would require a book!), but to point out some interesting relationships between present global warming and isotopic fingerprints from ice cores and recurrent glacial advance and retreat cycles recently and in the geologic past."
The manuscript starts by showing the current state of science and how the media is misreporting events. Several graphs are presented showing recent yearly temperatures and CO2 trends. A case is clearly made that there is no relation between the two. He goes on to point out some of the assertions made by the IPCC and the media.
"In a Newsweek article (August 13, 2007), author Sharon Begley states "Current warming is 10 times greater than ever before seen in the geologic record. The chance that warming is natural is less than 10 percent." Every competent geologist knows that this statement is totally false and contrary to vast amounts of well-established data. Global climates have warmed about 4-7° F in a series of ~30 year cycles since the Little Ice Age 400 years ago, all with no correlation with atmospheric CO2, yet the author claims that "the pattern of warming has a human fingerprint." What is needed to bring clarity to the issue is not rhetoric like this, but a hard look at the huge amount of geologic data that shows we've had climate changes 20 times greater than the past century in a fourth of the time."
The IPCC has stated that climate change prior to 1950 was likely due to "volcanic eruptions and changes in solar irradiance" yet climate change after 1950 was largely anthropogenic (man-made). Our current level of warming is not at all unusual and was seen as recently as the medieval warming period (800-1300 AD).
"The report does not elaborate on why, if solar irradiance or volcanic eruptions were responsible for earlier climate changes, they could not also be the cause of changes since 1950, nor how anthropogenic emissions could be responsible for early 20th century warming before CO2 emissions began to soar after 1945."
Regarding Al Gore's allegation that there is a "consensus" among scientists that CO2 has caused the current warming Dr. Easterbrook has the following to say:
"Gore (2006) and other proponents of the CO2 as the cause of global warming allege that "there is virtually no serious disagreement remaining on any of these central points that make up the consensus view of the world scientific community." The basis for this claim apparently is based, at least in part, on the IPCC report and the claim that virtually all of the world's scientists endorse it. However, the summary 2007 report for policymakers was compiled by only 33 authors and the full report, to be released in June 2007, was assembled by 143 authors and reviewed by 27 editors, hardly representative of the entire scientific community. Lindzen (2006) points out, "there is no consensus" -- no one has polled the world's several hundred thousand scientists. Gore (2006) claimed that of 928 articles dealing with climate change in the past 10 years, none expressed any doubt about the cause of global warming. Lindzen (2006), however, found that of those 928 publications, only 13 favored CO2 as the cause of global warming. Clearly, what needs to be done is to get away from the rhetoric and politicizing of global warming and carefully analyze the facts as they exist."
One of the often repeated statements by those that insist that CO2 is the cause of global warming is that "never before in the Earth's history has climate changed as rapidly as in the past century". That statement seems absurd when one looks at even the recent geologic record.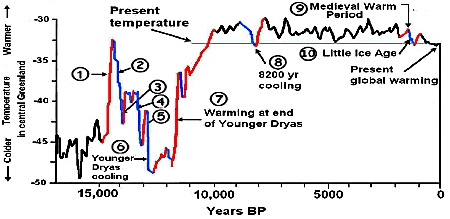 Temperature changes over the past 15,000 years (central Greenland).
Red lines represent times of sudden warming, blue lines represent times of rapid cooling.
The warming over the past 50 years is hardly even noticeable on the 15,000 year graph above. Compare the peaks about every 800-1000 years for the past 10,000 years (since the last full ice age), all are much warmer than what we're experiencing now. In fact the last 1,000 years has been unusually cool for this interglacial period, just looking at the graph it certainly looks like we've been over due for warming (or if our interglacial period is over another full ice age which would be
much
worse). The full manuscript (links below) outlines the several abrupt climate changes over this period.
You may be familiar with the often displayed Mann "hockey stick" graph that shows dramatic warming over the past few decades at a rate not seen in the past 1,000 years. This graph was shown by Al Gore in his movie 'An Inconvenient Truth' with Al Gore being raised in a cherry picker to the top of it. The "hockey stick" graph has been disproved by several reputable scientists. This from Dr. Easterbrook:
The Mann "hockey stick" was at odds with hundreds of historical and isotope sources, including the Greenland GRIP ice core isotope data, sea surface temperatures in the Sargasso Sea sediments (Keigwin, 1996), and paleo-temperature data other than tree rings (Fig. 9) (Loehle, 2007). McIntrye and McKitrick (2003) evaluated the data in the Mann paper and concluded that the Mann curve was invalid "due to collation errors, unjustifiable truncation or extrapolation of source data, obsolete data, geographical location errors, incorrect calculation of principal components and other quality control defects." Thus, the "hockey stick" concept of global climate change is now widely considered invalid and an embarrassment to the IPCC.
He goes on to present a couple of graphs showing proxy measurements from the past 3,000 years that show that the medieval warming period was much warmer and lasted a lot longer than the current warming we're experiencing today. (The Mann "hockey stick" graph is based off of several tree ring proxy studies. However all of these studies used much of the same invalidated data. As Dr. Easterbrook points out the Mann hockey stick is not supported by any of the other proxy measurements.)
Dr. Easterbrook spends a lot of time describing the natural cycles of climate change and the historic evidence that proves what we're seeing is nothing new. There are several natural cycles that affect climate, we've described two them in previous articles
Pacific Decadal Oscillation (PDO)
and
solar cycles
. Dr. Easterbrook goes in to a lot of detail on the 30 year cycle of climate cooling and warming caused at least in part by the PDO. This 30 year cycle has been observed in nearly all of the proxies that are capable of showing that level of precision.

There are several images of glaciers that show the retreat and advance through 1940-1979. These glaciers were all retreating through 1956 then started to advance again through 1979. All of these glaciers had significantly retreated by 1956 only to advance past their 1940 extent by 1979. Dr. Easterbrook also points out that we're also in a longer term cycle of warming that is causing us 1ºF per century as we come out of the Little Ice Age. This longer term cycle is causing glaciers to retreat century over century.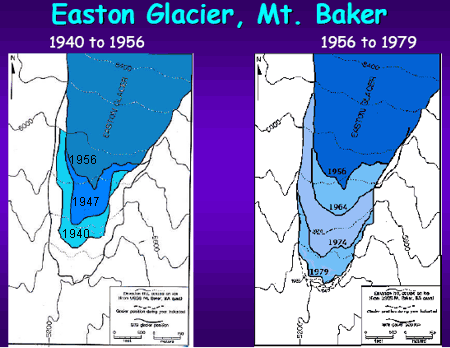 "The importance of the various types of evidence of climate fluctuations is that they show long–standing evidence of cool/warm cycles over many centuries. Adding more recent, observed climatic fluctuations to the earlier records shows that we are now right where we ought to be in this pattern, i.e., at the end of the current 30 year warm period and just entering the next 25-30 year cool phase. Extending this ongoing record into the future provides an opportunity to predict coming climate changes."

"Most of the global climate changes described above were far more intense (12 to 20 times as intense in some cases) than the global warming of the past century (compare them in Fig. 5), and they took place in as little as 20–100 years. As shown on Figure 5, the global warming of the past century (0.8° C) is virtually insignificant when compared to the magnitude of the earlier global climate changes. None of these sudden, pre-1977 global climate changes could possibly have been caused by human CO2 input to the atmosphere because they all took place long before human CO2 contributions to the atmosphere began."
What is his prediction of future temperatures based on historic trends and what is being measured today? A little less than 0.4°F warming by 2050 compared to the IPCC's prediction of 2.5°F.
You can read the entire manuscript here (Adobe PDF format. About 1.6mb each):
PART 1 GEOLOGIC EVIDENCE OF GLOBAL WARMING AND COOLING
PART 2 GEOLOGIC EVIDENCE OF GLOBAL WARMING AND COOLING
PART 3 GEOLOGIC EVIDENCE OF GLOBAL WARMING AND COOLING

Share or Bookmark this Article Using:
| furl

| reddit

| del.icio.us

| magnoliacom

| digg

| newsvine

| Stumble_it

| Facebook

| Google

| Fark

| Sphere

| Netscape

| Technorati

| Yahoo!

|
Add to Favorites and Additional Bookmarks:
GlobalWarmingHoax.com - Where the Truth Heats Up ™
You must be logged in to make comments on this site - please log in, or if you are not registered click here to signup