Global Warming Hoax News From Around the WebWorld Climate Report
»
A Classic Tale of Global Warming Alarmism
»
More Evidence Against a Methane Time Bomb
»
Agriculture: Tropical Cyclones are Welcome Visitors
»
Sea Level Acceleration: Not so Fast
»
Hansen Is Wrong
»
Earth's Carbon Sink Still Strong and Growing
»
Wild Speculation on Climate and Polar Bears
»
Illiteracy at NASA
»
The Heat Was On—Before Urbanization and Greenhouse Gases
»
What's to Blame for the Rains on the Plains?
***
NewsBusters - Global Warming
»
CNN's Blitzer: 'I Don't Remember' Biden's Law School Plagiarism
»
CNN's Chetry: 'Please Tell Me It's Not Lipstick Again'
»
MRC Report Asks: Why No Fairness Doctrine for PBS?
***
Science and Public Policy Institute
»
Tropical Trees
»
Global Temperatures and Biospheric Productivity
»
Rewriting Sunspot History
»
Analysis of the Second Order Draft of the Working I Contribution to IPCC 5AR
»
The Economics of Biofuels
»
The Warming-Induced Evolution of Terrestrial Plants
»
Medieval Warm Period in Southern Europe
»
Effects of Elevated C02 on the Stomatal Conductance of Agricultural Crops
»
Response of Various Marine Animals to Ocean Warming
»
Medieval Warm Period in Central Europe
»
Growth Response of Grassland Species to Elevated C02 When Water Stressed
»
Effects of Increased C02 on Herbaceous Plant Pests
»
Medieval Warm Period in Northern Europe
»
Loblolly Pines Defy the Progressive Nitrogen Hypothesis
»
Response of Crustaceans to Ocean Warming
»
Energy Inefficiencies of Biofuels
»
Response of Marine Plants to Changes in Temperature
»
Biofuels: The Carbon Debt They Owe
»
Medieval Warm Period in Japan
»
Response of Corals to Ocean Acidification
»
Interactive Effects of C02 and Water Stress on the Growth of Woody Plant Species
»
Biofuels: Land and Water Concerns
»
Medieval Warm Period in Upper North America
»
Can Plants Evolve Fast Enough to Cope with Increased Drought?
»
Health Promoting Effects of Elevated C02 on Common Food Plants
***
Climate Science: Roger Pielke Sr. Research Group
»
Roger Pielke Sr. is now on Twitter!
»
2012 Climate Science Weblog in Review by Dallas Jean Staley – A Guest Post
»
The Weblog Is Retiring
»
Publication Of "Reply to "Comment On 'Ocean Heat Content And Earth's Radiation Imbalance. II. Relation To Climate Shifts' " by Nuccitelli Et Al. By Douglass and Knox 2012
»
Q&A From A Group Of Retired NASA Personnel And Associates
»
The Importance of Land Use/Land Practices On Climate – A Perspective From Jon Foley
»
Interview With James Wynn In The English Department At Carnegie Mellon University
»
University Of Alabama At Huntsville October 2012 Lower Tropospheric Temperature Analysis
»
USA Election Day 2012
»
New Paper "Climatic Variability Over Time Scales Spanning Nine Orders of Magnitude: Connecting Milankovitch Cycles With Hurst–Kolmogorov Dynamics" By Markonis And Koutsoyiannis
***
»
Black Tuesday of Climate Science
»
Inventory of Hide-the-Decline
»
Another Porky from Mann, Williams and Fontaine
»
The Original Hide-the-Decline
»
Mann's New Memorandum
»
Rule N revisited
»
Who Wrote EPA's "Myths vs Facts"?
»
Mannomatic smoothing: technical details
»
Who wrote the EPA documents?
»
Misrepresentations and the Tainted Narrative of Mann's Complaint
***
Watts Up With That?
»
Sea Ice News Volume 5 #6 – Arctic sea ice extent turns the corner for 2014, new high sea ice record set in the Antarctic
»
Surprising PNAS paper: CO2 emissions not the cause of U.S. West Coast warming
»
Study: Fracked shale gas impacts have positive and negative benefits, but there's no reason not to make it part of the energy mix
»
Claim: Arctic sea ice helps remove CO2 from the atmosphere
»
More Than 310 Thousand People with Skewed Priorities Flood New York
»
Salmon, Climate, And Accountability
»
Weekly Climate and Energy News Roundup #150
»
'Paid volunteers' for the NYC climate march
»
@CNN asks 'Why worry about ISIS when the danger of Climate Change is so much more clear and imminent? '
»
If you want to play the all-weather-is-influenced-by-global-warming game, you are going to lose
»
A former White House science advisor speaks out about "settled science"
»
Climate Craziness of the Week: White House fence jumper was "concerned that the atmosphere was collapsing" and wanted to alert the president
***
Global Warming News
»
OMB Should Uphold Proposed Rollback of 2014 Renewable Fuel Standard (RFS) Targets
»
Senate Finance Committee Hears Testimony on Energy Tax Reform
»
EPA to Regulate CO2 Emissions from Aircraft
»
Secretary of State John Kerry Explains the Greenhouse Effect
»
Rising CO2 Concentrations: No Measureable Impact on Floods, Droughts, and Storms
»
MIT Study: EPA "Carbon Pollution" Rule Will Not Incentivize Investment In Carbon Capture Technology
»
Model Projections Too Hot Over 55-Year Period – Study
»
EPA's 52nd Takeover of State Regulatory Program Provides Perfect Segue to New Paper on Cooperative Federalism in the Obama Age
»
EPA's Staff Recommends Lower Ozone Standard, But it Doesn't Matter, Because EPA Has No Say
»
Separation of Powers Alert: Obama Seeks Climate 'Treaty' without Senate Ratification
***
Fox News - Climate Change Stories
***
Michelle Malkin - Enviro-Nitwits
»
Resolved: Al Gore's next mansion should be constructed from Climate March trash
»
Big crowd at 'People's Climate March' makes futile attempt to fill in carbon footprints of Gore, DiCaprio
»
There Will Be Blood II: Al Jazeera counter-sues Al Gore in battle royale for Big Oil money
»
Time for another episode of 'Al Gore's Doomsday Predictions vs. Reality'
»
Actor Leonardo DiCarbonFootprint named 'UN Messenger of Peace on Climate Change'
***
DailyTech Michael Asher`s blog
»
Will the Real Antarctica Please Stand Up?
»
Global Warming May Decrease Hurricanes, Research Suggests
»
Japanese Report Disputes Human Cause for Global Warming
»
Sea Ice Ends Year at Same Level as 1979
»
A Funny Thing Happened on the Way to the (Climate) Forum
»
Climate Report Downgrades Ice Loss; Media Reports Opposite
»
Princeton Physicist Calls Global Warming Science "Mistaken"
»
Defying Predictions, Sea Level Rise Begins to Slow
»
Electric Car Sales in Freefall; Industry Risks Collapse
»
Glaciers in Norway Growing Again
***
C3 - Climate Cycles Change
»
Why Do 97% of Climate Scientists Agree That CO2 Is Not A Climate 'Control Knob'?
»
The Scientific Case Against The Mythical CO2 "Climate Control" Knob Is Indisputable
»
The "Experts" Accelerating Global Warming 'Pause' Excuse List Hits 50
»
Climate Physics Dictates That CO2-Warming Shrinks: 165 Years Later, It Approaches Zero
»
Top 5 Reasons The 'Catastrophic Global Warming' Hysteria Has Failed
»
Memo To GOP Elites: Stop The Climate-Liars...Crush The Dems' Hysteria With Science Facts
»
NASA/GISS Provides Proof That CO2 Growth Does Not Produce Runaway, Tipping Point Global Warming
»
Democrats Believe Antarctica Is Melting - Oops, Scientists Confirm South Pole Is Now Colder
»
Compulsive Climate Change Obsession - A Mental Disorder Recognized Close To 150 Years Ago With No Cure In Sight Yet
»
New: 'The Global Warming War' Documentary Movie: Free Access If You Move Quickly
»
What Do Elections, pH Levels, Oysters, Democrat Politicians & CO2 Have in Common? Crony-Capitalism, Of Course
»
It's A 97% Consensus: Accelerating Reasons For Global Warming 'Pause' Climbs To 40
»
Multi-$Billion Climate Models Continue To Be Abysmal Failures; Low-Cost, Non-CO2 Model Kicks Butt
»
The 'Sick-Fųck' Club: Greg Blanchette, One Very Deranged Climate Change Alarmist
»
More Climate Model Failure: CO2-Based Computer Simulations Prove They Can't Predict Great Lakes' Water Levels
***
CATO - Global Warming
»
Scotland Votes 'No': More Governments Should Follow the U.K.'s Example of Self-Determination
»
Why ISIS Has an Abundance of Modern Weapons
»
Why the Pentagon Should Care about Scotland's Referendum
»
Paying the Health-Care Piper
»
The Obama Administration's Member-less Coalition against the Islamic State: What Good Are Allies Anyway?
»
Struggles to Protect Free Speech on Our College Campuses Continue
»
Why Obama's War on ISIL Won't Hold Its Popularity
»
Again, The House Punts on Fiscal Reform
»
The Islamic State Will Probably be Defeated, but It's Not Thanks to President Obama
»
Scottish Independence Is for Scots, Not Others, to Decide
»
Climate Change and the False Case for Haste
»
Winning Issues That Aren't Just about 'Not Obama'
»
Fighting ISIL is Not America's War: Other Countries Should Lead Coalition against Islamic State
»
Is Obama Abusing the Constitution to Combat ISIS?
»
Should Scotland Declare Its Independence?
»
A Trenchant Yet Flawed Analysis of American Foreign Policy
»
Ghosts of Imperialist Wars Past: China's Tourist Hot Spots Today
»
Turks Sould Lead ISIS Fight
»
Obama's Plan Has Nothing New or Strategic
»
A New War Can't Fix What Ails Iraq
»
No, We Shouldn't Have Stayed in Iraq – and "History" is Not on our Side if We Go Back
»
Terrifying Senate Democrats Vote to Give Political Speech Less Protection than Pornography
»
An Important Court Victory for Parents and Taxpayers
»
Should Scotland Secede from the United Kingdom?
»
US Spy Planes Monitoring China at Close Range: Legal, But Unwise
***
CanadaFreePress - Global Warming
»
The Most Futile March Ever
»
Robert F. Kennedy Jr. Wants To Jail His Political Opponents
***
More Global Warming Hoax News Feeds

---
Since Exxon Hasn't Sent Us Our First Million Dollars Yet You're Welcome To Help Pay Our Bills Until They Do.











Posted by Anonymous
Search AGWunveiled to discover the two drivers tha[more ...]
08/18 07:00

Posted by Anonymous
[ REQUIRES ADMIN APPROVAL ]
07/28 02:48

Posted by Anonymous
Yes
07/25 01:42

Posted by Joel Carlson
What do all the green plants on earth need to prod[more ...]
07/17 12:10

Posted by Anonymous
http://cpubuilds.com offers some insight into glob[more ...]
06/15 13:46

Posted by Anonymous
Global warming - this is old news for everyone! I [more ...]
02/27 12:28

Posted by Anonymous
Interesting blog about Global Warming in space. Th[more ...]
02/22 09:27

Posted by Anonymous
I want to thank you for this wonderful blog. And I[more ...]
02/22 08:21

Posted by Anonymous
Interesting blog about climate and global warming.[more ...]
02/22 08:18

Posted by Anonymous
Interesting blog about climate and global warming.[more ...]
02/22 08:15

License Plate Frames
Support the Truth


"SKEPTIC"




"It`s Natural"




"Liberty"

* MORE *
Strong and durable metal license plate holder. Uses full color high resolution images. UV and Water Protection. Satisfaction Guaranteed

You can now visit us on your mobile phone! Simply goto http://GlobalWarmingHoax.com on your mobile phone or PDA to get started!
"Geologic Evidence of the Cause of Global Warming and Cooling — Are We Heading for Global Catastrophy?"
on Thursday 29 May 2008
by Admin




in No Consensus
comments: 0
Dr. Don J. Easterbrook, Professor Emeritus Geology, Western Washington University is the author of 8 books, 150 journal publications with a focus on geomorphology; glacial geology; Pleistocene geochronology; environmental and engineering geology (for a summary of his impressive bio
click here
). He voted for Al Gore in 2000 but now can't forgive him for turning scientific debate in to outrageous propaganda. He has called NASA's James Hansen a "so-called climatologist" "who says things that are idiotic".
It would seem that Geologists who have spent a lifetime studying the long history of the earth have little time for people that don't know what they're talking about. But we've pointed out for sometime that geologists, and even paleontologists, are much less likely to believe in anthropogenic global warming than say a chemist or climatologist. Why? Because they've seen this type of climate change happen many times before, in the history of the rocks and fossils that they study. Dr. Easterbrook does an excellent job of pointing out how current climate conditions pale in comparison to even recent historical climatic events.
Here is how Dr. Easterbrook describes his manuscript:
"The purpose of this paper is not to present a comprehensive review of all of these issues (that would require a book!), but to point out some interesting relationships between present global warming and isotopic fingerprints from ice cores and recurrent glacial advance and retreat cycles recently and in the geologic past."
The manuscript starts by showing the current state of science and how the media is misreporting events. Several graphs are presented showing recent yearly temperatures and CO2 trends. A case is clearly made that there is no relation between the two. He goes on to point out some of the assertions made by the IPCC and the media.
"In a Newsweek article (August 13, 2007), author Sharon Begley states "Current warming is 10 times greater than ever before seen in the geologic record. The chance that warming is natural is less than 10 percent." Every competent geologist knows that this statement is totally false and contrary to vast amounts of well-established data. Global climates have warmed about 4-7° F in a series of ~30 year cycles since the Little Ice Age 400 years ago, all with no correlation with atmospheric CO2, yet the author claims that "the pattern of warming has a human fingerprint." What is needed to bring clarity to the issue is not rhetoric like this, but a hard look at the huge amount of geologic data that shows we've had climate changes 20 times greater than the past century in a fourth of the time."
The IPCC has stated that climate change prior to 1950 was likely due to "volcanic eruptions and changes in solar irradiance" yet climate change after 1950 was largely anthropogenic (man-made). Our current level of warming is not at all unusual and was seen as recently as the medieval warming period (800-1300 AD).
"The report does not elaborate on why, if solar irradiance or volcanic eruptions were responsible for earlier climate changes, they could not also be the cause of changes since 1950, nor how anthropogenic emissions could be responsible for early 20th century warming before CO2 emissions began to soar after 1945."
Regarding Al Gore's allegation that there is a "consensus" among scientists that CO2 has caused the current warming Dr. Easterbrook has the following to say:
"Gore (2006) and other proponents of the CO2 as the cause of global warming allege that "there is virtually no serious disagreement remaining on any of these central points that make up the consensus view of the world scientific community." The basis for this claim apparently is based, at least in part, on the IPCC report and the claim that virtually all of the world's scientists endorse it. However, the summary 2007 report for policymakers was compiled by only 33 authors and the full report, to be released in June 2007, was assembled by 143 authors and reviewed by 27 editors, hardly representative of the entire scientific community. Lindzen (2006) points out, "there is no consensus" -- no one has polled the world's several hundred thousand scientists. Gore (2006) claimed that of 928 articles dealing with climate change in the past 10 years, none expressed any doubt about the cause of global warming. Lindzen (2006), however, found that of those 928 publications, only 13 favored CO2 as the cause of global warming. Clearly, what needs to be done is to get away from the rhetoric and politicizing of global warming and carefully analyze the facts as they exist."
One of the often repeated statements by those that insist that CO2 is the cause of global warming is that "never before in the Earth's history has climate changed as rapidly as in the past century". That statement seems absurd when one looks at even the recent geologic record.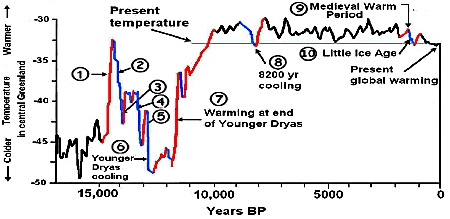 Temperature changes over the past 15,000 years (central Greenland).
Red lines represent times of sudden warming, blue lines represent times of rapid cooling.
The warming over the past 50 years is hardly even noticeable on the 15,000 year graph above. Compare the peaks about every 800-1000 years for the past 10,000 years (since the last full ice age), all are much warmer than what we're experiencing now. In fact the last 1,000 years has been unusually cool for this interglacial period, just looking at the graph it certainly looks like we've been over due for warming (or if our interglacial period is over another full ice age which would be
much
worse). The full manuscript (links below) outlines the several abrupt climate changes over this period.
You may be familiar with the often displayed Mann "hockey stick" graph that shows dramatic warming over the past few decades at a rate not seen in the past 1,000 years. This graph was shown by Al Gore in his movie 'An Inconvenient Truth' with Al Gore being raised in a cherry picker to the top of it. The "hockey stick" graph has been disproved by several reputable scientists. This from Dr. Easterbrook:
The Mann "hockey stick" was at odds with hundreds of historical and isotope sources, including the Greenland GRIP ice core isotope data, sea surface temperatures in the Sargasso Sea sediments (Keigwin, 1996), and paleo-temperature data other than tree rings (Fig. 9) (Loehle, 2007). McIntrye and McKitrick (2003) evaluated the data in the Mann paper and concluded that the Mann curve was invalid "due to collation errors, unjustifiable truncation or extrapolation of source data, obsolete data, geographical location errors, incorrect calculation of principal components and other quality control defects." Thus, the "hockey stick" concept of global climate change is now widely considered invalid and an embarrassment to the IPCC.
He goes on to present a couple of graphs showing proxy measurements from the past 3,000 years that show that the medieval warming period was much warmer and lasted a lot longer than the current warming we're experiencing today. (The Mann "hockey stick" graph is based off of several tree ring proxy studies. However all of these studies used much of the same invalidated data. As Dr. Easterbrook points out the Mann hockey stick is not supported by any of the other proxy measurements.)
Dr. Easterbrook spends a lot of time describing the natural cycles of climate change and the historic evidence that proves what we're seeing is nothing new. There are several natural cycles that affect climate, we've described two them in previous articles
Pacific Decadal Oscillation (PDO)
and
solar cycles
. Dr. Easterbrook goes in to a lot of detail on the 30 year cycle of climate cooling and warming caused at least in part by the PDO. This 30 year cycle has been observed in nearly all of the proxies that are capable of showing that level of precision.

There are several images of glaciers that show the retreat and advance through 1940-1979. These glaciers were all retreating through 1956 then started to advance again through 1979. All of these glaciers had significantly retreated by 1956 only to advance past their 1940 extent by 1979. Dr. Easterbrook also points out that we're also in a longer term cycle of warming that is causing us 1ºF per century as we come out of the Little Ice Age. This longer term cycle is causing glaciers to retreat century over century.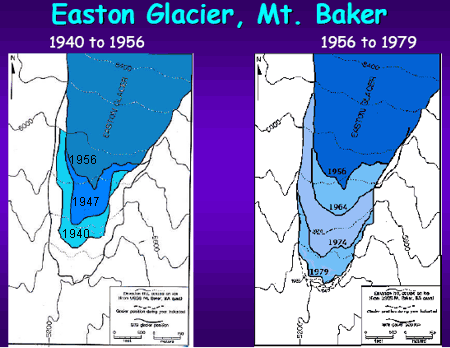 "The importance of the various types of evidence of climate fluctuations is that they show long–standing evidence of cool/warm cycles over many centuries. Adding more recent, observed climatic fluctuations to the earlier records shows that we are now right where we ought to be in this pattern, i.e., at the end of the current 30 year warm period and just entering the next 25-30 year cool phase. Extending this ongoing record into the future provides an opportunity to predict coming climate changes."

"Most of the global climate changes described above were far more intense (12 to 20 times as intense in some cases) than the global warming of the past century (compare them in Fig. 5), and they took place in as little as 20–100 years. As shown on Figure 5, the global warming of the past century (0.8° C) is virtually insignificant when compared to the magnitude of the earlier global climate changes. None of these sudden, pre-1977 global climate changes could possibly have been caused by human CO2 input to the atmosphere because they all took place long before human CO2 contributions to the atmosphere began."
What is his prediction of future temperatures based on historic trends and what is being measured today? A little less than 0.4°F warming by 2050 compared to the IPCC's prediction of 2.5°F.
You can read the entire manuscript here (Adobe PDF format. About 1.6mb each):
PART 1 GEOLOGIC EVIDENCE OF GLOBAL WARMING AND COOLING
PART 2 GEOLOGIC EVIDENCE OF GLOBAL WARMING AND COOLING
PART 3 GEOLOGIC EVIDENCE OF GLOBAL WARMING AND COOLING

Share or Bookmark this Article Using:
| furl

| reddit

| del.icio.us

| magnoliacom

| digg

| newsvine

| Stumble_it

| Facebook

| Google

| Fark

| Sphere

| Netscape

| Technorati

| Yahoo!

|
Add to Favorites and Additional Bookmarks:
GlobalWarmingHoax.com - Where the Truth Heats Up ™
You must be logged in to make comments on this site - please log in, or if you are not registered click here to signup