Global Warming Hoax News From Around the WebWorld Climate Report
»
A Classic Tale of Global Warming Alarmism
»
More Evidence Against a Methane Time Bomb
»
Agriculture: Tropical Cyclones are Welcome Visitors
»
Sea Level Acceleration: Not so Fast
»
Hansen Is Wrong
»
Earth's Carbon Sink Still Strong and Growing
»
Wild Speculation on Climate and Polar Bears
»
Illiteracy at NASA
»
The Heat Was On—Before Urbanization and Greenhouse Gases
»
What's to Blame for the Rains on the Plains?
***
NewsBusters - Global Warming
»
Nets Uncritically Hype Dem 'All-Nighter' on Climate Change, Mocked Cruz's 'Long-Winded' Protest
»
NPR Station Conducts 'Scientific' Sea Level Rise Survey Via Bizarre Computer Voice Shoutouts
»
Scarborough Taunts Liberals Who Claim 'There's Been A Total Blackout On Climate Change'
»
Former Greenpeace Official to Senate Panel: 'No Scientific Proof' of Human-Caused Global Warming
»
CBS Predicts Climate Change Means the End of Snow: 'Winter Sports Could Be Doomed'
»
Leftists Try, Fail to Suppress Krauthammer Column; Fox's Kurtz Not Amused
»
Carol Costello Doubles Down on CNN Declaration of No Climate Change Debate
»
NY Times Cartoon Suggests 'Climate-Change Deniers' Should Be Stabbed to Death
»
CNN Declares No Two Sides to Climate Change Debate
»
CNN's Van Jones: 'Delusional' to Not Act on Climate Change to Prevent 'A Billion Climate Refugees'
»
Press Outlets All Over Report on Milk Price Increases While Ignoring Larger Impact of EPA-Dictated Carbon Mandate
»
Irony in Yesterday's AP Headlines, Later Altered, on Obama's Unilateral Moves
»
WATCH: MRC's Bozell, FBN's Varney Condemn Network Over-Coverage of Global Warming
»
Barely News: EPA 'Carbon Capture' Rules to Increase Wholesale Electicity Costs by Up to 80%
»
On Fox, MRC's Brent Bozell Reveals Dramatic Sunday Climate Change 'Tsunami' of Hype
»
MSNBC.com Pits 'Science Guy' Nye Against Republican Congresswoman
»
NBC's Gregory and Bill Nye Team Up to Denounce Global Warming Skepticism
»
George Will on 'Climate Change' and In General: When Pols Say 'Debate Is Over,' It Really Means 'They're Losing It'
»
CBS's Charles Osgood Promotes John Kerry Comparing Global Warming Skeptics To Those Who Thought Earth Was Flat
»
Meet the Press to Host Climate Change Debate Featuring a Guy Who Played a Scientist on TV
***
Science and Public Policy Institute
»
Biospheric Productivity in South America
»
Killing Wildlife in the Name of Climate Change
»
Natural Resource Adaptation: Protecting Resources and Economies
»
The Interaction of C02 and Non-Ozone Air Pollutants on Plant Growth
»
Global Cooling
»
The Final Final IPCC AR5 WGI Report
»
Rising Atmospheric C02 and Soil Erosion
»
The IPCC Admits Defeat
»
Medieval Warm Period in the Contiguous United States
»
Evolution in Natural Vegetation: The Role of C02
»
Lindzen Libeled
»
Health-Promoting Effects of Elevated C02 on Medical Plants
»
Effects of Increased C02 on Woody Plant Pests
»
The Scientific Method
»
Judith Curry's Statement to the Committee on Environment and Public Works of the US Senate
»
Risking Lives to Promote Climate Change Hype
»
Global Hurricane Trends
»
Water Use Efficiency of Trees
»
Game Over! The IPCC Quietly Concedes Defeat
»
Potential Inaccuracies of Assessing Temperature Trends
»
Historical Global Temperature Trends
»
Can Migrating Plants Move Fast Enough to Avoid Projected Extinctions from Global Warming?
»
Biospheric Productivity of China Deserts
»
Historical Temperature Trends in Asia
»
Growth Response of Aspen Trees to Elevated Carbon Dioxide and Ozone
***
Climate Science: Roger Pielke Sr. Research Group
»
Roger Pielke Sr. is now on Twitter!
»
2012 Climate Science Weblog in Review by Dallas Jean Staley – A Guest Post
»
The Weblog Is Retiring
»
Publication Of "Reply to "Comment On 'Ocean Heat Content And Earth's Radiation Imbalance. II. Relation To Climate Shifts' " by Nuccitelli Et Al. By Douglass and Knox 2012
»
Q&A From A Group Of Retired NASA Personnel And Associates
»
The Importance of Land Use/Land Practices On Climate – A Perspective From Jon Foley
»
Interview With James Wynn In The English Department At Carnegie Mellon University
»
University Of Alabama At Huntsville October 2012 Lower Tropospheric Temperature Analysis
»
USA Election Day 2012
»
New Paper "Climatic Variability Over Time Scales Spanning Nine Orders of Magnitude: Connecting Milankovitch Cycles With Hurst–Kolmogorov Dynamics" By Markonis And Koutsoyiannis
***
»
Does "Inhomogeneous forcing and transient climate sensitivity" by Drew Shindell make sense?
»
Data and Corrections for Rosenthal et al 2013
»
Mann Misrepresents NOAA OIG
»
Mann Misrepresents the UK Department of Energy and Climate Change
»
Mann Misrepresents the UK Commons Committee
»
More SKS in the Mann Pleadings
»
SKS and Mann's Doctored Quote
»
Mann and the Muir Russell Inquiry #1
»
Mann and the Oxburgh Panel
»
The Copyright of the The Copenhagen Diagnosis
***
Watts Up With That?
»
Claim: Ghenghis Khan rode climate change to power
»
New Gallup poll shows climate change near the bottom of things worth worrying about
»
Steyn versus the Stick Figure
»
Newsbytes: Walport in a storm
»
Analysis: Tesla may have made over $100 million off the CARB enabled battery swap ZEV credit scheme
»
Death blow to Barycentrism: 'On the alleged coherence between the global temperature and the sun's movement'
»
The Future of Models
»
Observing water vapor feedback during 'the pause'
»
National Wildlife Federation 'jumps the shark' – claims school animal mascots are at risk for climate change
»
LED's rule, twisty bulbs drool
»
The Shindell climate sensitivity paper: another 'GISS miss'
»
Climate Craziness of the Week: 'warming causing lobster cannibalism'
***
Global Warming News
»
Senate Majority Leader Reid Out of Touch with Himself on Climate Change
»
Video: CEI's Marlo Lewis on CPAC Panel Discussion, 'What's the Deal with Global Warming'
»
Poll: Senate Majority Leader Woefully Out of Touch with American People on Climate Change
»
More Studies Find Lower Climate Sensitivity
»
Video: CEI's William Yeatman on NRO Panel Discussion, 'Man vs. Wild: California Water Crisis'
»
Secretary Kerry Focuses on Climate Diplomacy While Russia Marches Into Crimea
»
Quadrennial Defense Review 2014: Lions and Tigers and ManBearPigs, Oh My!
»
Voting with Their Feet: Warmer Is Better
»
Cooler Heads Digest 28 February 2014
»
Utility Air Regulatory Group v. EPA: What's Really at Stake?
***
Fox News - Climate Change Stories
***
Michelle Malkin - Enviro-Nitwits
»
Climate emergency: Global warming has raised ocean level so much Cory Booker can no longer drive to Hawaii
»
Senate Dems to spout hot air all night to save world from global warming
»
John Kerry urgently asks U.S. envoys to give top priority to… climate change
»
Great Lakes near 100 percent ice cover; Will Al Gore be relieved, or blame 'climate crisis'?
»
Global warming causing 'settled science' crowd to attempt to silence dissent
***
DailyTech Michael Asher`s blog
»
Will the Real Antarctica Please Stand Up?
»
Global Warming May Decrease Hurricanes, Research Suggests
»
Japanese Report Disputes Human Cause for Global Warming
»
Sea Ice Ends Year at Same Level as 1979
»
A Funny Thing Happened on the Way to the (Climate) Forum
»
Climate Report Downgrades Ice Loss; Media Reports Opposite
»
Princeton Physicist Calls Global Warming Science "Mistaken"
»
Defying Predictions, Sea Level Rise Begins to Slow
»
Electric Car Sales in Freefall; Industry Risks Collapse
»
Glaciers in Norway Growing Again
***
C3 - Climate Cycles Change
»
Satellites Confirm: Despite A Near Trillion Tonne Human CO2 Surge, Global Atmosphere Warming Goes AWOL
»
Climate "Experts" Growing List of Excuses For Global Warming 'Pause' & Official Climate Model Failures
»
Those Stubborn Facts: Per NOAA, Current Global Warming 'Pause' Unprecedented In Modern Era - 190 Months Long
»
Connect The Dots: Global Cooling Trends Dominate, per UK Climate Research Agency
»
Climate FactCheck: Is There Any Empirical Merit For "Runaway" & "Tipping Point" Global Warming Claims? ...Well,...No
»
Global Warming Truth: Since 1850 The World Has Warmed, But........
»
Climate Reality Is Brutal: Scientists Determine Higher CO2 Levels Not Pushing Global Temperatures Up
»
Climate Pinocchio-Check: Obama, Kerry Global Warming & Climate Change Claims Earn Multiple Pinocchios
»
1954: A Bad Year of "Climate Change" - Natural Disasters Pummel Large Swaths of Globe, Again
»
Climate FactCheck by NOAA: 20 Years of U.S. Winters Getting Colder - Trend Is -2.5°F/Century - Global Cooling?
»
NASA Making International News Re: Global Warming Fabrication For Political Agenda
»
U.S. Climate Analysis: Will The 'Global Cooling' of America Continue At -6.5°F per Century Rate?
»
Climate FactCheck: Is Current Global Ocean Warming Unprecedented? NOAA Says 'NO'
»
Climate Science Consensus: Last 60 Years of Global Warming Below Earlier Periods, Experts Say
»
Per NOAA, Climate Impact of Cumulative CO2 Emissions Since 1880 Approaching Nil
***
CATO - Global Warming
»
An Obama Tax That Can Silently Take Your Life Away
»
Choosing to Learn
»
Governing for Poetry
»
Sometimes a 'Willingness to Steal' from the Government Is a Good thing
»
How to Deal with North Korea
»
Dem Candidates and the ObamaCare Albatross
»
The Responsibility to Resist Fiscally Irresponsible Politicians
»
Europeans Watch Ukraine and Fear Russia: They Should Take over NATO And Europe's Defense
»
Letter to the Editor: Venezuela's Phoney Inflation Rate
»
Ohio Has a Ministry of Truth, and It Isn't Much Better Than George Orwell's
»
Military Cuts a Step in the Right Direction
»
The Greens vs. Free Trade
»
Why the Tea Party's Waning, Not Winning
»
Schools That Turn Students into Outcasts Are Unamerican
»
Paul Ryan's Poverty Plan Charts a Moderate Path, Not a Conservative One
»
Whatever Its Faults, the Tea Party Identified the Right Target
»
Hagel's Futile Quest for NATO Burden Sharing
»
Politics on the Bench--Iowa and Beyond
»
Beat That Snowball!
»
Legal and Illegal Political Corruption
»
End the Drug War: The American People Are Not the Enemy
»
The Ingrained Intolerance of Liberal Tolerance
»
9 Reasons Why I Support Both Marriage Equality and Arizona's Religious-Liberty Bill
»
Avoid War, Cold Or Hot, with Russia over Ukraine: Finding a Way Back from the Catastrophic Brink
»
A Slow Death for the Keystone XL Oil Pipeline?
***
CanadaFreePress - Global Warming
»
UK Government Chief Scientist Accused Of 'Name-Calling For Lack Of Evidence'
»
Volcanoes and Climate Change
»
Sleepless in the US
***
More Global Warming Hoax News Feeds

---
Since Exxon Hasn't Sent Us Our First Million Dollars Yet You're Welcome To Help Pay Our Bills Until They Do.











Posted by Anonymous
Global warming - this is old news for everyone! I [more ...]
02/27 12:28

Posted by Anonymous
Interesting blog about Global Warming in space. Th[more ...]
02/22 09:27

Posted by Anonymous
I want to thank you for this wonderful blog. And I[more ...]
02/22 08:21

Posted by Anonymous
Interesting blog about climate and global warming.[more ...]
02/22 08:18

Posted by Anonymous
Interesting blog about climate and global warming.[more ...]
02/22 08:15

Posted by Anonymous
It has long been began talking about global warmin[more ...]
02/10 13:34

Posted by Anonymous
As leaders from athwart the earth encounter to pro[more ...]
02/06 00:50

Posted by Anonymous
A unprecedented spill parameterization in the ocea[more ...]
02/06 00:48

Posted by Anonymous
This exaggeration single could esteem for many of [more ...]
02/06 00:42

Posted by Anonymous
vizag famous places photos
02/04 23:26
You must be logged in to post comments on this site - please either log in or if you are not registered click
here
to signup

License Plate Frames
Support the Truth


"SKEPTIC"




"It`s Natural"




"Liberty"

* MORE *
Strong and durable metal license plate holder. Uses full color high resolution images. UV and Water Protection. Satisfaction Guaranteed

You can now visit us on your mobile phone! Simply goto http://GlobalWarmingHoax.com on your mobile phone or PDA to get started!
"Geologic Evidence of the Cause of Global Warming and Cooling — Are We Heading for Global Catastrophy?"
on Thursday 29 May 2008
by Admin




in No Consensus
comments: 0
Dr. Don J. Easterbrook, Professor Emeritus Geology, Western Washington University is the author of 8 books, 150 journal publications with a focus on geomorphology; glacial geology; Pleistocene geochronology; environmental and engineering geology (for a summary of his impressive bio
click here
). He voted for Al Gore in 2000 but now can't forgive him for turning scientific debate in to outrageous propaganda. He has called NASA's James Hansen a "so-called climatologist" "who says things that are idiotic".
It would seem that Geologists who have spent a lifetime studying the long history of the earth have little time for people that don't know what they're talking about. But we've pointed out for sometime that geologists, and even paleontologists, are much less likely to believe in anthropogenic global warming than say a chemist or climatologist. Why? Because they've seen this type of climate change happen many times before, in the history of the rocks and fossils that they study. Dr. Easterbrook does an excellent job of pointing out how current climate conditions pale in comparison to even recent historical climatic events.
Here is how Dr. Easterbrook describes his manuscript:
"The purpose of this paper is not to present a comprehensive review of all of these issues (that would require a book!), but to point out some interesting relationships between present global warming and isotopic fingerprints from ice cores and recurrent glacial advance and retreat cycles recently and in the geologic past."
The manuscript starts by showing the current state of science and how the media is misreporting events. Several graphs are presented showing recent yearly temperatures and CO2 trends. A case is clearly made that there is no relation between the two. He goes on to point out some of the assertions made by the IPCC and the media.
"In a Newsweek article (August 13, 2007), author Sharon Begley states "Current warming is 10 times greater than ever before seen in the geologic record. The chance that warming is natural is less than 10 percent." Every competent geologist knows that this statement is totally false and contrary to vast amounts of well-established data. Global climates have warmed about 4-7° F in a series of ~30 year cycles since the Little Ice Age 400 years ago, all with no correlation with atmospheric CO2, yet the author claims that "the pattern of warming has a human fingerprint." What is needed to bring clarity to the issue is not rhetoric like this, but a hard look at the huge amount of geologic data that shows we've had climate changes 20 times greater than the past century in a fourth of the time."
The IPCC has stated that climate change prior to 1950 was likely due to "volcanic eruptions and changes in solar irradiance" yet climate change after 1950 was largely anthropogenic (man-made). Our current level of warming is not at all unusual and was seen as recently as the medieval warming period (800-1300 AD).
"The report does not elaborate on why, if solar irradiance or volcanic eruptions were responsible for earlier climate changes, they could not also be the cause of changes since 1950, nor how anthropogenic emissions could be responsible for early 20th century warming before CO2 emissions began to soar after 1945."
Regarding Al Gore's allegation that there is a "consensus" among scientists that CO2 has caused the current warming Dr. Easterbrook has the following to say:
"Gore (2006) and other proponents of the CO2 as the cause of global warming allege that "there is virtually no serious disagreement remaining on any of these central points that make up the consensus view of the world scientific community." The basis for this claim apparently is based, at least in part, on the IPCC report and the claim that virtually all of the world's scientists endorse it. However, the summary 2007 report for policymakers was compiled by only 33 authors and the full report, to be released in June 2007, was assembled by 143 authors and reviewed by 27 editors, hardly representative of the entire scientific community. Lindzen (2006) points out, "there is no consensus" -- no one has polled the world's several hundred thousand scientists. Gore (2006) claimed that of 928 articles dealing with climate change in the past 10 years, none expressed any doubt about the cause of global warming. Lindzen (2006), however, found that of those 928 publications, only 13 favored CO2 as the cause of global warming. Clearly, what needs to be done is to get away from the rhetoric and politicizing of global warming and carefully analyze the facts as they exist."
One of the often repeated statements by those that insist that CO2 is the cause of global warming is that "never before in the Earth's history has climate changed as rapidly as in the past century". That statement seems absurd when one looks at even the recent geologic record.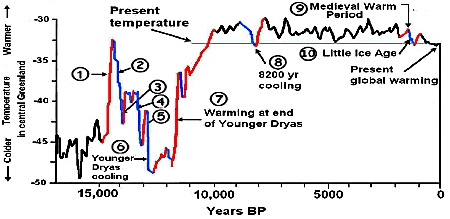 Temperature changes over the past 15,000 years (central Greenland).
Red lines represent times of sudden warming, blue lines represent times of rapid cooling.
The warming over the past 50 years is hardly even noticeable on the 15,000 year graph above. Compare the peaks about every 800-1000 years for the past 10,000 years (since the last full ice age), all are much warmer than what we're experiencing now. In fact the last 1,000 years has been unusually cool for this interglacial period, just looking at the graph it certainly looks like we've been over due for warming (or if our interglacial period is over another full ice age which would be
much
worse). The full manuscript (links below) outlines the several abrupt climate changes over this period.
You may be familiar with the often displayed Mann "hockey stick" graph that shows dramatic warming over the past few decades at a rate not seen in the past 1,000 years. This graph was shown by Al Gore in his movie 'An Inconvenient Truth' with Al Gore being raised in a cherry picker to the top of it. The "hockey stick" graph has been disproved by several reputable scientists. This from Dr. Easterbrook:
The Mann "hockey stick" was at odds with hundreds of historical and isotope sources, including the Greenland GRIP ice core isotope data, sea surface temperatures in the Sargasso Sea sediments (Keigwin, 1996), and paleo-temperature data other than tree rings (Fig. 9) (Loehle, 2007). McIntrye and McKitrick (2003) evaluated the data in the Mann paper and concluded that the Mann curve was invalid "due to collation errors, unjustifiable truncation or extrapolation of source data, obsolete data, geographical location errors, incorrect calculation of principal components and other quality control defects." Thus, the "hockey stick" concept of global climate change is now widely considered invalid and an embarrassment to the IPCC.
He goes on to present a couple of graphs showing proxy measurements from the past 3,000 years that show that the medieval warming period was much warmer and lasted a lot longer than the current warming we're experiencing today. (The Mann "hockey stick" graph is based off of several tree ring proxy studies. However all of these studies used much of the same invalidated data. As Dr. Easterbrook points out the Mann hockey stick is not supported by any of the other proxy measurements.)
Dr. Easterbrook spends a lot of time describing the natural cycles of climate change and the historic evidence that proves what we're seeing is nothing new. There are several natural cycles that affect climate, we've described two them in previous articles
Pacific Decadal Oscillation (PDO)
and
solar cycles
. Dr. Easterbrook goes in to a lot of detail on the 30 year cycle of climate cooling and warming caused at least in part by the PDO. This 30 year cycle has been observed in nearly all of the proxies that are capable of showing that level of precision.

There are several images of glaciers that show the retreat and advance through 1940-1979. These glaciers were all retreating through 1956 then started to advance again through 1979. All of these glaciers had significantly retreated by 1956 only to advance past their 1940 extent by 1979. Dr. Easterbrook also points out that we're also in a longer term cycle of warming that is causing us 1ºF per century as we come out of the Little Ice Age. This longer term cycle is causing glaciers to retreat century over century.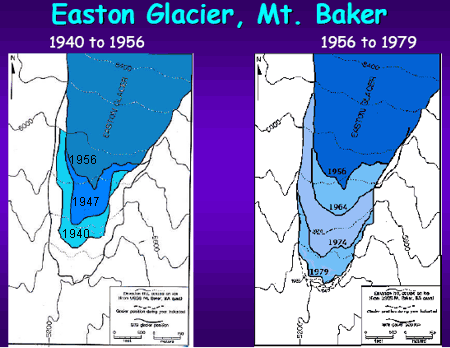 "The importance of the various types of evidence of climate fluctuations is that they show long–standing evidence of cool/warm cycles over many centuries. Adding more recent, observed climatic fluctuations to the earlier records shows that we are now right where we ought to be in this pattern, i.e., at the end of the current 30 year warm period and just entering the next 25-30 year cool phase. Extending this ongoing record into the future provides an opportunity to predict coming climate changes."

"Most of the global climate changes described above were far more intense (12 to 20 times as intense in some cases) than the global warming of the past century (compare them in Fig. 5), and they took place in as little as 20–100 years. As shown on Figure 5, the global warming of the past century (0.8° C) is virtually insignificant when compared to the magnitude of the earlier global climate changes. None of these sudden, pre-1977 global climate changes could possibly have been caused by human CO2 input to the atmosphere because they all took place long before human CO2 contributions to the atmosphere began."
What is his prediction of future temperatures based on historic trends and what is being measured today? A little less than 0.4°F warming by 2050 compared to the IPCC's prediction of 2.5°F.
You can read the entire manuscript here (Adobe PDF format. About 1.6mb each):
PART 1 GEOLOGIC EVIDENCE OF GLOBAL WARMING AND COOLING
PART 2 GEOLOGIC EVIDENCE OF GLOBAL WARMING AND COOLING
PART 3 GEOLOGIC EVIDENCE OF GLOBAL WARMING AND COOLING

Share or Bookmark this Article Using:
| furl

| reddit

| del.icio.us

| magnoliacom

| digg

| newsvine

| Stumble_it

| Facebook

| Google

| Fark

| Sphere

| Netscape

| Technorati

| Yahoo!

|
Add to Favorites and Additional Bookmarks:
GlobalWarmingHoax.com - Where the Truth Heats Up ™
You must be logged in to make comments on this site - please log in, or if you are not registered click here to signup