Global Warming Hoax News From Around the WebWorld Climate Report
»
A Classic Tale of Global Warming Alarmism
»
More Evidence Against a Methane Time Bomb
»
Agriculture: Tropical Cyclones are Welcome Visitors
»
Sea Level Acceleration: Not so Fast
»
Hansen Is Wrong
»
Earth's Carbon Sink Still Strong and Growing
»
Wild Speculation on Climate and Polar Bears
»
Illiteracy at NASA
»
The Heat Was On—Before Urbanization and Greenhouse Gases
»
What's to Blame for the Rains on the Plains?
***
NewsBusters - Global Warming
»
CNN's Blitzer: 'I Don't Remember' Biden's Law School Plagiarism
»
CNN's Chetry: 'Please Tell Me It's Not Lipstick Again'
»
MRC Report Asks: Why No Fairness Doctrine for PBS?
***
Science and Public Policy Institute
»
Experimental Artifacts of Free-Air-C02-Enrichment (FACE) Studies
»
The Extinction Risk for Stationary Plants
»
Benefits of Atmospheric C02 Enrichment on Strawberries
»
Forest Growth Responses to Increasing Temperatures
»
Stop Climate Fear Mongering
»
Was 2014 the Warmest Year on Record? No, It Wasn't...
»
Problems with Model Predictions of Species Extinctions
»
The Influence of C02 on Plant Antioxidants
»
Health Effects of Hot vs. Cold Temperatures in Asia
»
Coral Reef Responses to Temperature and Stress: Thermal Adaptation
»
Forest Growth Response to C02
»
Onward Marches the Great Pause
»
Response of Various Marine Animals to Ocean Acidification and Warming
»
FACE Experiments and Grassland Species
»
Effects of Ocean Acidification on Fish
»
Response of Fish to Ocean Warming
»
Additional Grounds for Rejecting Biofuels
»
The Global Medieval Warm Period
»
Growth Rates of Old Versus Young Forest Trees
»
Water Use Efficiency of Agricultural Species
»
Tropical Trees
»
Global Temperatures and Biospheric Productivity
»
Rewriting Sunspot History
»
Analysis of the Second Order Draft of the Working I Contribution to IPCC 5AR
»
The Economics of Biofuels
***
Climate Science: Roger Pielke Sr. Research Group
»
Roger Pielke Sr. is now on Twitter!
»
2012 Climate Science Weblog in Review by Dallas Jean Staley – A Guest Post
»
The Weblog Is Retiring
»
Publication Of "Reply to "Comment On 'Ocean Heat Content And Earth's Radiation Imbalance. II. Relation To Climate Shifts' " by Nuccitelli Et Al. By Douglass and Knox 2012
»
Q&A From A Group Of Retired NASA Personnel And Associates
»
The Importance of Land Use/Land Practices On Climate – A Perspective From Jon Foley
»
Interview With James Wynn In The English Department At Carnegie Mellon University
»
University Of Alabama At Huntsville October 2012 Lower Tropospheric Temperature Analysis
»
USA Election Day 2012
»
New Paper "Climatic Variability Over Time Scales Spanning Nine Orders of Magnitude: Connecting Milankovitch Cycles With Hurst–Kolmogorov Dynamics" By Markonis And Koutsoyiannis
***
»
Revkin's Source
»
Andrew Weaver: Libel Chill or Libel "Polar Vortex"
»
Marotzke and Forster's circular attribution of CMIP5 intermodel warming differences
»
Important New North American East Coast Proxy Data
»
Ground-truthing Marcott
»
More Mann Grafting
»
Mann and the Legacy of "Bogus"
»
One of Carvin's Gaffes
»
Oral Argument 2: EPA on "Fraud" Allegations
»
Oral Argument 1: Context
***
Watts Up With That?
»
What is the Optimum Temperature with respect to human mortality?
»
Weekly Climate and Energy News Roundup #170
»
Study: The sun has more impact on the climate in cool periods
»
Out on bail, IPCC's Pachauri's downward spiral continues: Resignation from the Indian Climate Council
»
Climatic Jihad?
»
Housekeeping: Adobe Typekit is being flagged by Ghostery browser extension as a problem program
»
Cultural Tipping Point Reached – Hollywood has started mocking global warming
»
Congessional Republicans push back against the climate witch-hunt
»
Faux outrage over Willie Soon's disclosure? Joe Romm failed to disclose his political financial ties in a scientific paper
»
Global warming research: strong storms to become stronger, weak storms to become weaker
»
For The Love Of Models: A Global Warming Allegory
»
Anatomy of a climate witch-hunt letter from U.S. Representative Raúl M. Grijalva
***
Global Warming News
»
CEI Drops Other Shoe on McCarthy Mimics in Congressional Democratic Caucus
»
Rep. John Yarmuth Is Latest To Suffer from Type-II Climate Derangement Syndrome
»
New York Times Repeats Scurrilous Greenpeace Attack on Willie Soon Without Checking the Facts
»
Lies and Other Lowlights from EPA Administrator McCarthy's Testimonies on FY 2016 Budget before the House This Week
»
Energy & Environment Media Bullet Points
»
There's No Such Thing as a "Neutral" Carbon Tax
»
Did "Prickly" Waxman Settle for M St. after Being Spurned by K St.?
»
Grist's Gross Mission Creep Reflects Rise of Big Green within the DNC
»
FERC Commissioner Moeller Puts the Lie to EPA's Rote Claim Regarding Clean Power Plan "Flexibility"
»
EPA Shuns Federal Agencies, States, Congress, Private Sector, and Even Itself (but not green special interests!)
***
Fox News - Climate Change Stories
***
Michelle Malkin - Enviro-Nitwits
»
Starbucks working diligently to protect the planet from threat posed by whipped cream
»
Great Lakes' failure to cooperate with Al Gore's doomsday alarmism a sure sign of climate change, says Bill Nye
»
Bill Nye shares climate change proof: The Wyoming hills are alive with 'science'!
»
Man-made climate change alarmists continue to be busted revising history
»
Koch-a-geddon watch: Salon picks up slack for Harry Reid while he recovers
***
DailyTech Michael Asher`s blog
»
Will the Real Antarctica Please Stand Up?
»
Global Warming May Decrease Hurricanes, Research Suggests
»
Japanese Report Disputes Human Cause for Global Warming
»
Sea Ice Ends Year at Same Level as 1979
»
A Funny Thing Happened on the Way to the (Climate) Forum
»
Climate Report Downgrades Ice Loss; Media Reports Opposite
»
Princeton Physicist Calls Global Warming Science "Mistaken"
»
Defying Predictions, Sea Level Rise Begins to Slow
»
Electric Car Sales in Freefall; Industry Risks Collapse
»
Glaciers in Norway Growing Again
***
C3 - Climate Cycles Change
***
CATO - Global Warming
»
A Litmus Test for ObamaCare and the Rule of Law
»
Currency Wars, Again
»
What Terrorists Are Really Angry About
»
Common Core Confusion: Blame Supporters
»
Libya: Hold Policymakers Accountable for another Washington War Gone Bad
»
Hillary the Stealth Candidate
»
Terrorism Poses No Existential Threat to America. We Must Stop Pretending Otherwise
»
I'm an Immigrant and a Reform Advocate. Obama's Executive Actions Are a Disaster for the Cause.
»
President Obama Is Apparently Not Imperial Enough for the GOP
»
India's Next Budget Needs a Vision for Leading Asia
»
US Wants to Hack Your Phone Because It Doesn't Have Real Spies It Needs
»
Religious Liberty in China: The Key to a Stable, Peaceful, and Harmonious Order
»
Pushing Back against Islamist Aggression
»
The Island Dispute No One Is Talking About
»
George Washington, the Man Who Established the Republic
»
Washington's Foolish Foreign Policy: American People Must Say No to More Wars
»
Does Supporting School Choice Mean Hating Public Schools?
»
The Battle for Central Europe
»
Obama Moves to Extend U.S. Lives. Impossible for Him? Let's See
»
Drug Money: Obama's Reckless $1 Billion Payout to Central America
»
Liberty Dies as Thailand's Military Monopolizes Power: Junta Dispenses Repression Instead Oof Happiness
»
Testing Obamacare
»
The U.S. Government's Cyber-Go-Round
»
The Pentagon's Bloat
»
Obamacare's Electronic-Records Debacle
***
CanadaFreePress - Global Warming
»
Green Slander
»
Equatorial Glaciers?—Yeah!
»
Conservatives and "Gaffes"
***
More Global Warming Hoax News Feeds

---
Since Exxon Hasn't Sent Us Our First Million Dollars Yet You're Welcome To Help Pay Our Bills Until They Do.











Posted by Anonymous
Anonymous wrote ...Awesome publish! I like this pa[more ...]
02/09 23:17

Posted by Anonymous
Awesome publish! I like this particular; the readi[more ...]
02/09 23:15

Posted by Anonymous
nice post
01/16 02:00

Posted by Hazel Perry
Great examine post! That's most significant detai[more ...]
01/16 01:59

Posted by Anonymous
Great examine post! That's most significant detai[more ...]
01/16 01:58

Posted by Anonymous
Admired writing skill! This article is honestly a [more ...]
01/05 03:29

Posted by Anonymous
Studying this info! From the beginning to the end,[more ...]
01/05 03:22

Posted by Anonymous
Peer Reviewed Hoax Busting Studies Kristen Byrnes[more ...]
12/01 02:44

Posted by Anonymous
I've learn all the posts and i discovered very uni[more ...]
11/27 01:55

Posted by Melantha 
  It is already August, the day of Cheap FIFA 15 C[more ...]
11/14 23:16

License Plate Frames
Support the Truth


"SKEPTIC"




"It`s Natural"




"Liberty"

* MORE *
Strong and durable metal license plate holder. Uses full color high resolution images. UV and Water Protection. Satisfaction Guaranteed

You can now visit us on your mobile phone! Simply goto http://GlobalWarmingHoax.com on your mobile phone or PDA to get started!
Follies in Measuring Global Warming III
Hansen's Lights = 0 Temperature Stations In New England
Once upon a time James Hanson and co-workers at NASA's Goddard Institute for Space Studies (GISS) had a bright idea (pardon the pun) on how to separate urban temperature stations from rural temperature stations. Scientists needed to eliminate the heat island effect from urban stations. NASA satellites were used to get photos of the Earth at nighttime, showing where people have lights near homes, buildings, and streets. This is how NASA GISS was able to locate rural and urban temperature stations. By comparing the rural and urban temperatures, NASA GISS could make adjustments to the temperature record.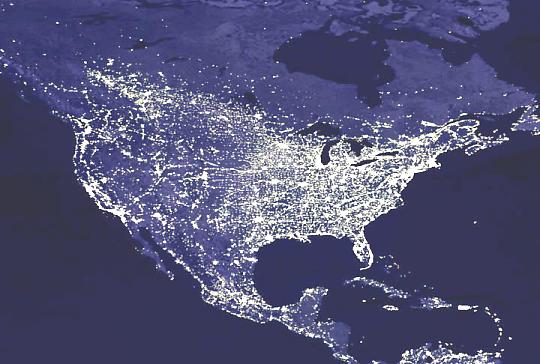 NASA Urban Light Map
Unfortunately, the satellite used by Hansen and GISS didn't have a zoom feature, because if it did, they would have seen the obvious problems that exist at the National Weather Service Coop stations used in their global warming studies.
We have all seen Anthony Watts' Happy Camp Ranger Station where NASA's lights = 0, but air conditioners within 100 feet of the temperature station = 22. Not to mention the blacktop, buildings and trees.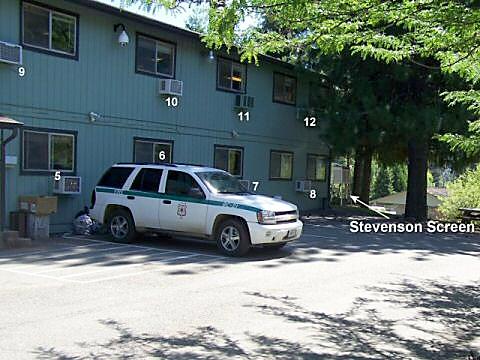 How Not to Measure Temperaturel
5 of the temperature stations that were surveyed by KBSF are GISS "lights = 0" stations. Hansen's "lights = 0" stations in New England are not as bad as Happy Camp but all are in violation of National Weather Service guidelines for station sites.
Acadia National Park, ME
GISS #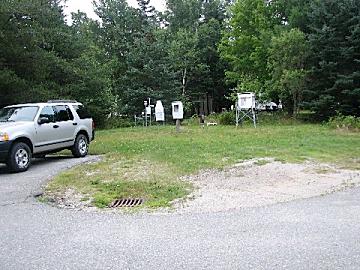 NWS violations completely surround this lights = 0 station, whether it's trees, pavement or cars.
First Connecticut Lake, NH
GISS #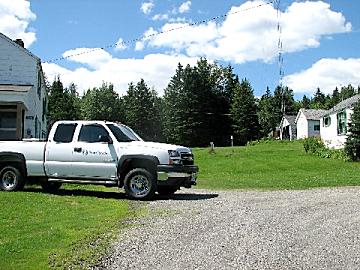 The operator of this site told my volunteer that the temperature at this MMTS is 1 – 2 degrees warmer than at the Nimbus station that is 100 yards away in the same field. He thinks it has something to do with the wind that is blown upslope from the direction of the highway and funneled between the house on the left and the cottages on the right. The temperature difference could also be from light reflected by the cottages or even bad equipment.
Cavendish, VT
GISS #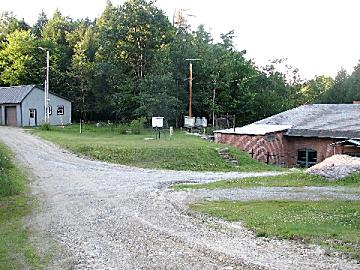 NASA Satellites didn't see any lights at this temperature station, nor did it see the large transformer grid, the concrete slab in front of the station, the trees and buildings that are too close or the roof of the power plant that is 13 feet away.
Cornwall, VT
GISS #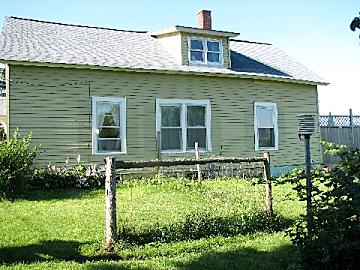 NWS Site Guidelines for temperature stations require that the distance from structures and trees are at least 4 times the height of the structure or trees. This site was approved by the NWS despite the house on one side and the trees on the other which are all too close.
Northfield, VT
GISS #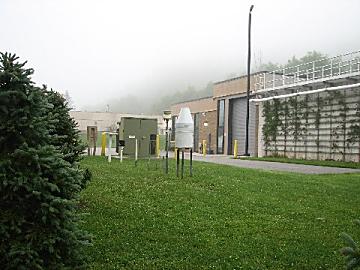 Lights = 0.
Trees = a few.
Concrete, pavement, electrical and gas powered equipment = plenty.
Knowing the cause of "man made" global warming = priceless.
©
Kristen Byrnes
and Ponder the Maunder - All Rights Reserved. Reprinted on GlobalWarmingHoax.com with Permission.