Global Warming Hoax News From Around the WebWorld Climate Report
»
A Classic Tale of Global Warming Alarmism
»
More Evidence Against a Methane Time Bomb
»
Agriculture: Tropical Cyclones are Welcome Visitors
»
Sea Level Acceleration: Not so Fast
»
Hansen Is Wrong
»
Earth's Carbon Sink Still Strong and Growing
»
Wild Speculation on Climate and Polar Bears
»
Illiteracy at NASA
»
The Heat Was On—Before Urbanization and Greenhouse Gases
»
What's to Blame for the Rains on the Plains?
***
NewsBusters - Global Warming
»
CNN's Blitzer: 'I Don't Remember' Biden's Law School Plagiarism
»
CNN's Chetry: 'Please Tell Me It's Not Lipstick Again'
»
MRC Report Asks: Why No Fairness Doctrine for PBS?
***
Science and Public Policy Institute
***
Climate Science: Roger Pielke Sr. Research Group
»
Roger Pielke Sr. is now on Twitter!
»
2012 Climate Science Weblog in Review by Dallas Jean Staley – A Guest Post
»
The Weblog Is Retiring
»
Publication Of "Reply to "Comment On 'Ocean Heat Content And Earth's Radiation Imbalance. II. Relation To Climate Shifts' " by Nuccitelli Et Al. By Douglass and Knox 2012
»
Q&A From A Group Of Retired NASA Personnel And Associates
»
The Importance of Land Use/Land Practices On Climate – A Perspective From Jon Foley
»
Interview With James Wynn In The English Department At Carnegie Mellon University
»
University Of Alabama At Huntsville October 2012 Lower Tropospheric Temperature Analysis
»
USA Election Day 2012
»
New Paper "Climatic Variability Over Time Scales Spanning Nine Orders of Magnitude: Connecting Milankovitch Cycles With Hurst–Kolmogorov Dynamics" By Markonis And Koutsoyiannis
***
»
Op Ed on Deflategate
»
Did McNally Inflate One Football in the Washroom?
»
Letter to Daniel Marlow on Exponent Error
»
Exponent's Trick to Exaggerate the Decline
»
Who "Told" Exponent Not to Consider Switching Scenario?
»
Goodell and Deflategate Science
»
Raymond Bradley and the Grand Old Duke of York
»
Ruling out high deflation scenarios
»
Exponent's Transients: Bodge or Botch?
»
NFL Officials Over-Inflated Patriot Balls
***
Watts Up With That?
***
Global Warming News
»
Economic Growth Is the Best Climate Insurance Policy
»
Obama's Climate Tour: Who Cares?
»
Obama's Alaska Trip: Do We Have a Climate Change Problem or a Russia Problem?
»
Clean Energy Incentive Program: New Unlawful Element in EPA's Power Plant Rule?
»
Rivers of Gold and Energy Poverty
»
Keystone XL Review Five Times Longer than Average — AP
»
Guest Post: Primer on Administrator McCarthy's Talk Tomorrow on "The Promise of the Clean Power Plan"
»
Gasoline or Ethanol: Which Is More Polluting?
»
EPA's Colossally Costly Power Plan Fulfills Obama's Campaign Promise
»
EPA's Power Sector Carbon Rules: Are They Legal?
***
Fox News - Climate Change Stories
***
Michelle Malkin - Enviro-Nitwits
»
While Obama was in Alaska staring down glaciers to stave off climate change, this was going on nearby
»
Peer-reviewed study: Obama's mixed messages contributing to climate change, mass confusion
»
What is Obama's top population control freak hiding?
»
Obama torches 20,000 gallons of gas to warn that 'fossil fuel interests' are conspiring against 'clean energy'
»
Head of EPA: Obama's Clean Power Plan will hit low-income minorities hardest, but they'll get 'incredible savings' by 2030
***
DailyTech Michael Asher`s blog
***
C3 - Climate Cycles Change
»
Climate FactCheck: 12 Reasons Why Obama's Global Warming Hysteria Is Simply Absurd
»
John Cook of Univ. of Queensland & Skeptical Science ('SS') Does Identity Theft Of Luboš Motl, A Theoretical Physics Scientist
»
Climate Fraud: NASA's Recent Global Warming "Corrections" Equal A +95.0°C Per Century Trend
»
Your Govt At Work: NOAA Is Now Reporting That U.S. Has Been Cooling Since 1994
»
The Faux-Sɔıǝuɔǝ of Global Warming: Documenting NOAA's Temperature Fabrications
»
Global Cooling? Per NOAA, 5-Year Average U.S. Temps Cooled At -1.3°F/Century Trend
»
Climate FactCheck: CO2 Emissions Growth Has No Impact On Atmospheric CO2 Growth
»
Connect-The-Dots? For The Rapid CO2 Growth & "Accelerating" Global Warming You Can't
»
Those Stubborn Facts: Bill Gates Confirms Analysis of Google Experts - Renewable Energy Is Failed Solution
»
Consensus Quackery: 30+ Years Experts Push Bad Science & The Public Pays
»
Settled Climate Science...Really? Research Finds Ocean Currents More Powerful Than CO2
»
More Climate Reality: Uh-Oh, Nebraska Doesn't Do Global Warming
»
Remember When Experts Said Modern Climate Warming Was "Unprecedented"?
»
FactCheck: The Pope's Climate Doomsday & The IPCC's Expert Climate Models Versus Science Reality
»
Per NOAA: The May 2015 Dataset Confirms 20 Years of Global Warming 'Pause' In U.S.
***
CATO - Global Warming
»
Hillary Parties Like It's 1938
»
Thanks to Libya, North Korea Might Never Negotiate on Nuclear Weapons
»
A Little More Money, a Lot More Problems: Japan's Defense Dilemma
»
Exciting, Illuminating Book The Words We Live By Makes the Constitution Come Alive
»
Congress and the Budget: Danger Ahead
»
Protecting the Religious Liberties of the City's Jewish Schools
»
Thailand Suffers as Military Plans to Extend Control: Junta Delivers Oppression, Not Happiness
»
GOP Candidate Jeb Bush Finds His Inner Neocon
»
Politicization of Intelligence: Lessons from a Long, Dishonorable History
»
China: The Mishandled Issue in the U.S. Presidential Election Campaign
»
The Resurrection of Discredited Ideas
»
Why Enlisting Turkey to Fight the Islamic State Was a Bad Idea
»
California More of a Welfare State than Most Countries in Europe
»
Waiting for the Fed Rate Rise: Beware Careless Talk
»
On Health Care, Walker and Rubio Offer Obamacare Lite
»
Cutting Funding, Opposing Labor Rules, Doesn't Make You 'Anti-Education'
»
How European Welfare Discourages Work
»
Correcting the "Historical Accident" of Opt-Out Requirements
»
Even if You Buy the Science, the Policy Still Fails
»
Birthright Citizenship Encourages Assimilation
»
Marriage Equality's 'Reign of Terror' Is in the Past--Not the Present
»
Instability in China
»
New York Welfare: More Generous than Sweden or France
»
Clean Power Plan: Acid Rain Part 2?
»
The Stock Market and the Limits of Class Warfare
***
CanadaFreePress - Global Warming
***
More Global Warming Hoax News Feeds

---
Since Exxon Hasn't Sent Us Our First Million Dollars Yet You're Welcome To Help Pay Our Bills Until They Do.











Posted by Anonymous
Well I have heard this lot and so have I heard tha[more ...]
08/31 05:05

Posted by Anonymous
Thanks for the cool blog and great forum :) houseo[more ...]
08/09 21:23

Posted by Anonymous
Is a great topic salwar suits in collection salwar[more ...]
07/09 00:23

Posted by Anonymous
I think, it's a thoughtful posting and offering al[more ...]
07/06 04:47

Posted by Anonymous
Very good digestive tract wellbeing = bodily healt[more ...]
06/21 05:40

Posted by Anonymous
[quote][quote]You put certainly revolutionary idea[more ...]
05/14 11:08

Posted by Anonymous
Anonymous wrote ...You put certainly revolutionary[more ...]
05/12 23:28

Posted by Anonymous
[quote]You put certainly revolutionary ideas in th[more ...]
05/12 23:27

Posted by Anonymous
[quote]You put certainly revolutionary ideas in th[more ...]
05/12 23:25

Posted by Anonymous
[quote]You put certainly revolutionary ideas in th[more ...]
05/12 23:24

License Plate Frames
Support the Truth


"SKEPTIC"




"It`s Natural"




"Liberty"

* MORE *
Strong and durable metal license plate holder. Uses full color high resolution images. UV and Water Protection. Satisfaction Guaranteed

You can now visit us on your mobile phone! Simply goto http://GlobalWarmingHoax.com on your mobile phone or PDA to get started!
Follies in Measuring Global Warming III
Hansen's Lights = 0 Temperature Stations In New England
Once upon a time James Hanson and co-workers at NASA's Goddard Institute for Space Studies (GISS) had a bright idea (pardon the pun) on how to separate urban temperature stations from rural temperature stations. Scientists needed to eliminate the heat island effect from urban stations. NASA satellites were used to get photos of the Earth at nighttime, showing where people have lights near homes, buildings, and streets. This is how NASA GISS was able to locate rural and urban temperature stations. By comparing the rural and urban temperatures, NASA GISS could make adjustments to the temperature record.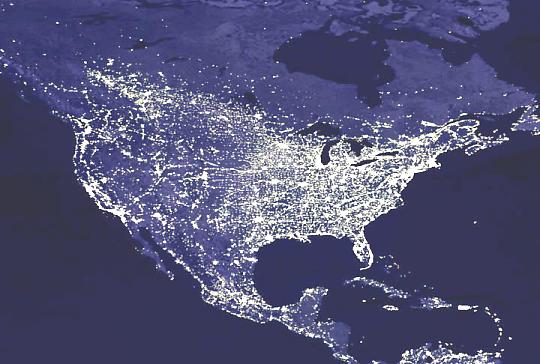 NASA Urban Light Map
Unfortunately, the satellite used by Hansen and GISS didn't have a zoom feature, because if it did, they would have seen the obvious problems that exist at the National Weather Service Coop stations used in their global warming studies.
We have all seen Anthony Watts' Happy Camp Ranger Station where NASA's lights = 0, but air conditioners within 100 feet of the temperature station = 22. Not to mention the blacktop, buildings and trees.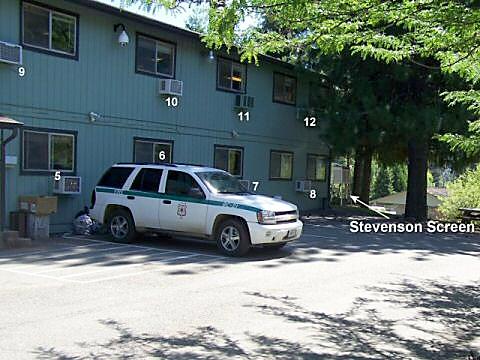 How Not to Measure Temperaturel
5 of the temperature stations that were surveyed by KBSF are GISS "lights = 0" stations. Hansen's "lights = 0" stations in New England are not as bad as Happy Camp but all are in violation of National Weather Service guidelines for station sites.
Acadia National Park, ME
GISS #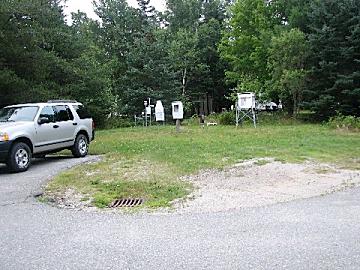 NWS violations completely surround this lights = 0 station, whether it's trees, pavement or cars.
First Connecticut Lake, NH
GISS #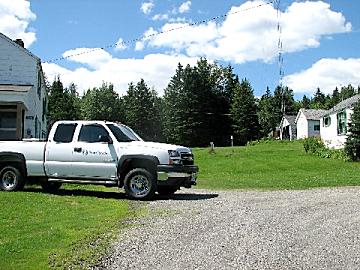 The operator of this site told my volunteer that the temperature at this MMTS is 1 – 2 degrees warmer than at the Nimbus station that is 100 yards away in the same field. He thinks it has something to do with the wind that is blown upslope from the direction of the highway and funneled between the house on the left and the cottages on the right. The temperature difference could also be from light reflected by the cottages or even bad equipment.
Cavendish, VT
GISS #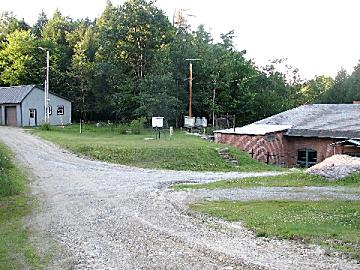 NASA Satellites didn't see any lights at this temperature station, nor did it see the large transformer grid, the concrete slab in front of the station, the trees and buildings that are too close or the roof of the power plant that is 13 feet away.
Cornwall, VT
GISS #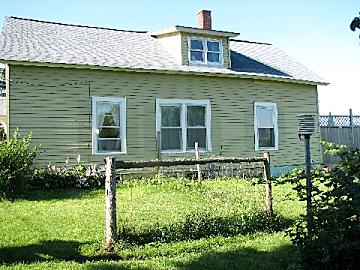 NWS Site Guidelines for temperature stations require that the distance from structures and trees are at least 4 times the height of the structure or trees. This site was approved by the NWS despite the house on one side and the trees on the other which are all too close.
Northfield, VT
GISS #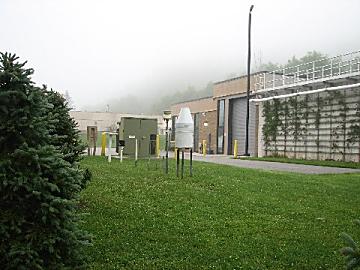 Lights = 0.
Trees = a few.
Concrete, pavement, electrical and gas powered equipment = plenty.
Knowing the cause of "man made" global warming = priceless.
©
Kristen Byrnes
and Ponder the Maunder - All Rights Reserved. Reprinted on GlobalWarmingHoax.com with Permission.