»
UAH Global Temperature Update for July, 2017: +0.28 deg. C


The Version 6.0 global average lower tropospheric temperature (LT) anomaly for July, 2017 was +0.28 ...

»
4,300 Days Since Last U.S. Major Hurricane Strike


Wednesday of this week will mark 4,300 days since the last major hurricane (Category 3 or stronger, ...

»
Study: Sea Level Rise Revised Downward


If I had not looked past the headline of the press report on a new study, I would have just filed it ...

»
Warming in the Tropics? Even the New RSS Satellite Dataset Says the Models are Wrong


From recent media reports (e.g. the WaPo's Capital Weather Gang) you would think that the new ...

»
The Great American Eclipse – 40 days to go


The Great American Eclipse of Monday, August 21, 2017 will be one of only a couple of chances for ma ...

»
Comments on the New RSS Lower Tropospheric Temperature Dataset


It was inevitable that the new RSS mid-tropospheric (MT) temperature dataset, which showed more warm ...

»
No, it didn't snow in Kenya yesterday


There is much internet buzzing about "snow" in Kenya yesterday, and its connection to cl ...

»
Stephen Hawking Flies off the Scientific Reservation


I can understand when pop-scientists like Bill Nye spout scientific silliness. But complete nonsense ...

»
UAH Global Temperature Update for June, 2017: +0.21 deg. C


Lowest global temperature anomaly in last 2 years (since July, 2015) The Version 6.0 global average ...

»
The AMS Scolds Rick Perry for Believing the Oceans are Stronger than Your SUV


Yesterday, the American Meteorological Society (AMS) sent a letter to DOE Secretary Rick Perry, scol ...

Posted by Nina Dobrev
Really great conversion tool and it can easily sta[more ...]
08/17 04:46

Posted by Anonymous
Get an effective result-oriented tool RecoveryFix [more ...]
08/17 03:11

Posted by Anonymous
Its a good post..keep posting and update the infor[more ...]
08/16 17:27

Posted by Minka Kelly
EDB to PST Converter has been proved as an excelle[more ...]
08/16 03:35

Posted by Anonymous
I am extremely satisfaction to peruse. your distri[more ...]
08/15 01:22

Posted by johnphlip
If you want to convert OLM to PST file format usin[more ...]
08/13 23:27

Posted by Anonymous
Amazing article thanks or sharing..http://csharpai[more ...]
08/11 00:52

Posted by Anonymous
Dissertation Guidance Provides quality Online Diss[more ...]
08/11 00:50

Posted by Anonymous
Amazing article thanks or sharing..<a href="htt[more ...]
08/11 00:48

Posted by Karenjit Kaur
It is very easy to repair recover corrupt or damag[more ...]
08/08 06:50

License Plate Frames
Support the Truth


"SKEPTIC"




"It`s Natural"




"Liberty"

* MORE *
Strong and durable metal license plate holder. Uses full color high resolution images. UV and Water Protection. Satisfaction Guaranteed

You can now visit us on your mobile phone! Simply goto http://GlobalWarmingHoax.com on your mobile phone or PDA to get started!
Follies in Measuring Global Warming III
Hansen's Lights = 0 Temperature Stations In New England
Once upon a time James Hanson and co-workers at NASA's Goddard Institute for Space Studies (GISS) had a bright idea (pardon the pun) on how to separate urban temperature stations from rural temperature stations. Scientists needed to eliminate the heat island effect from urban stations. NASA satellites were used to get photos of the Earth at nighttime, showing where people have lights near homes, buildings, and streets. This is how NASA GISS was able to locate rural and urban temperature stations. By comparing the rural and urban temperatures, NASA GISS could make adjustments to the temperature record.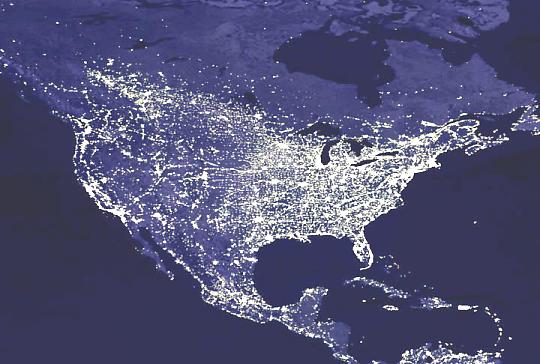 NASA Urban Light Map
Unfortunately, the satellite used by Hansen and GISS didn't have a zoom feature, because if it did, they would have seen the obvious problems that exist at the National Weather Service Coop stations used in their global warming studies.
We have all seen Anthony Watts' Happy Camp Ranger Station where NASA's lights = 0, but air conditioners within 100 feet of the temperature station = 22. Not to mention the blacktop, buildings and trees.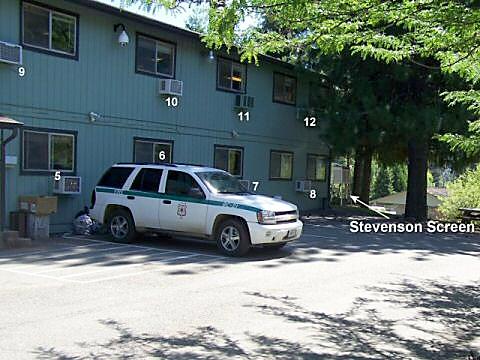 How Not to Measure Temperaturel
5 of the temperature stations that were surveyed by KBSF are GISS "lights = 0" stations. Hansen's "lights = 0" stations in New England are not as bad as Happy Camp but all are in violation of National Weather Service guidelines for station sites.
Acadia National Park, ME
GISS #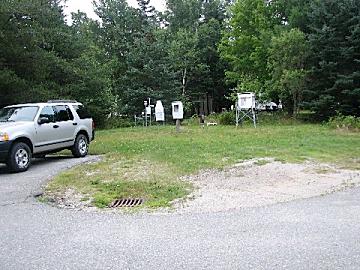 NWS violations completely surround this lights = 0 station, whether it's trees, pavement or cars.
First Connecticut Lake, NH
GISS #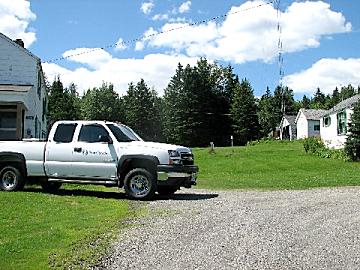 The operator of this site told my volunteer that the temperature at this MMTS is 1 – 2 degrees warmer than at the Nimbus station that is 100 yards away in the same field. He thinks it has something to do with the wind that is blown upslope from the direction of the highway and funneled between the house on the left and the cottages on the right. The temperature difference could also be from light reflected by the cottages or even bad equipment.
Cavendish, VT
GISS #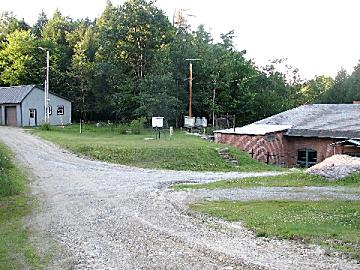 NASA Satellites didn't see any lights at this temperature station, nor did it see the large transformer grid, the concrete slab in front of the station, the trees and buildings that are too close or the roof of the power plant that is 13 feet away.
Cornwall, VT
GISS #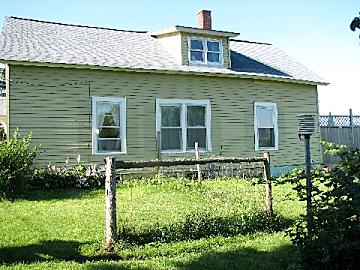 NWS Site Guidelines for temperature stations require that the distance from structures and trees are at least 4 times the height of the structure or trees. This site was approved by the NWS despite the house on one side and the trees on the other which are all too close.
Northfield, VT
GISS #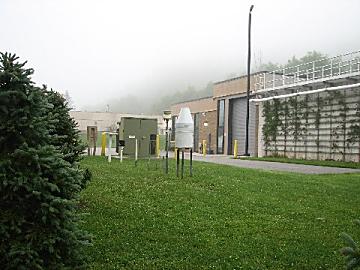 Lights = 0.
Trees = a few.
Concrete, pavement, electrical and gas powered equipment = plenty.
Knowing the cause of "man made" global warming = priceless.
©
Kristen Byrnes
and Ponder the Maunder - All Rights Reserved. Reprinted on GlobalWarmingHoax.com with Permission.