»
UAH Global Temperature Update for November 2016: +0.45 deg. C


November Temperature Up a Little from October; 2016 Almost Certain to be Warmest in 38 Year Satellit ...

»
Global Warming: Policy Hoax versus Dodgy Science


In the early 1990s I was visiting the White House Science Advisor, Sir Prof. Dr. Robert Watson, who ...

»
Super-zoom videos of supermoon rising


The last couple nights I tried out my new Nikon Coolpix P900 super-zoom camera on the rising moon, a ...

»
UAH Global Temperature Update for October 2016: +0.41 deg. C


October Temperature Down a Little from September NOTE: This is the nineteenth monthly update with ou ...

»
What Do 16 Years of CERES Data Tell Us About Global Climate Sensitivity?


Short Answer: It all depends upon how you interpret the data. It has been quite a while since I have ...

»
New Santer et al. Paper on Satellites vs. Models: Even Cherry Picking Ends with Model Failure


(the following is mostly based upon information provided by Dr. John Christy) Dr. John Christy ...

»
Global Warming be Damned: Record Corn, Soybeans, Wheat


For many years we have been warned that climate change is creating a "climate crisis", w ...

»
4,001 Days: The Major Hurricane Drought Continues


Also, The Hurricane Center Doesn't Overestimate…But It Does Over-warn Today marks 4,001 ...

»
Matthew Could Get Loopy, Hit Florida Twice


(UPDATED 7:25 a.m. EDT Thursday October 6) Several days ago, it seemed unlikely that Major Hurricane ...

»
UAH Global Temperature Update for September 2016: +0.44 deg. C


September Temperature Unchanged from August NOTE: This is the eighteenth monthly update with our new ...
»
Centenary of the End of the Battle of the Somme


November 18 marks the centenary of the end of the Battle of the Somme, an event that passed essentia ...

»
The Destruction of Huma Abedin's Emails on the Clinton Server and their Surprise Recovery


Despite extraordinarily intense coverage of all aspects of Hillary Clinton's emails, all comme ...

»
Was early onset industrial-era warming anthropogenic, as Abram et al. claim?


A guest post by Nic Lewis Introduction A recent PAGES 2k Consortium paper in Nature, Abram et al., t ...

»
Re-examining Cook's Mt Read (Tasmania) Chronology


In today's post, I'm going to re-examine (or more accurately, examine de novo) Ed Cook ...

»
Esper et al 2016 and the Oroko Swamp


Jan Esper, prominent in early Climate Audit posts as an adamant serial non-archiver, has joined with ...

»
Gergis and Law Dome


In today's post, I'm going to examine Gergis' dubious screening out of the Law Dom ...

»
Joelle Gergis, Data Torturer


In 2012, the then much ballyhoo-ed Australian temperature reconstruction of Gergis et al 2012 myster ...

»
Gergis


redirect to here

»
Are energy budget TCR estimates biased low, as Richardson et al (2016) claim?


A guest post by Nic Lewis   Introduction and Summary In a recently published paper (REA16), Mar ...

»
Deflategate: Controversy is due to Scientist Error


I've submitted an article entitled "New Light on Deflategate: Critical Technical Errors ...

Posted by Anonymous
How to Recover lost SMS on Android? Android Device[more ...]
12/03 00:03

Posted by Anonymous
[ REQUIRES ADMIN APPROVAL ]
12/03 00:01

Posted by Anonymous
If you want to recover deleted data from iPhone, i[more ...]
12/02 23:59

Posted by Anonymous
[ REQUIRES ADMIN APPROVAL ]
12/02 23:57

Posted by Anonymous
[ REQUIRES ADMIN APPROVAL ]
12/02 23:55

Posted by Anonymous
How to Retrieve lost Data from Android? Deleted yo[more ...]
12/02 23:49

Posted by Anonymous
To recover lost iphone data, we can use an iphone [more ...]
12/02 04:04

Posted by Anonymous
With professional iPhone Text Message Recovery sof[more ...]
12/02 01:52

Posted by Anonymous
You can recover deleted text messages from iPhone [more ...]
11/30 00:49

Posted by Anonymous
That wasn't me, just some wannabe. The way of thin[more ...]
11/29 08:55

License Plate Frames
Support the Truth


"SKEPTIC"




"It`s Natural"




"Liberty"

* MORE *
Strong and durable metal license plate holder. Uses full color high resolution images. UV and Water Protection. Satisfaction Guaranteed

You can now visit us on your mobile phone! Simply goto http://GlobalWarmingHoax.com on your mobile phone or PDA to get started!
Follies in Measuring Global Warming III
Hansen's Lights = 0 Temperature Stations In New England
Once upon a time James Hanson and co-workers at NASA's Goddard Institute for Space Studies (GISS) had a bright idea (pardon the pun) on how to separate urban temperature stations from rural temperature stations. Scientists needed to eliminate the heat island effect from urban stations. NASA satellites were used to get photos of the Earth at nighttime, showing where people have lights near homes, buildings, and streets. This is how NASA GISS was able to locate rural and urban temperature stations. By comparing the rural and urban temperatures, NASA GISS could make adjustments to the temperature record.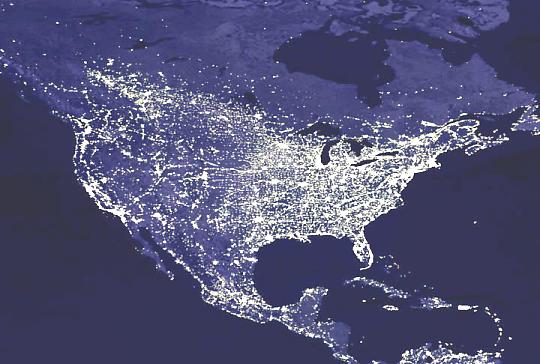 NASA Urban Light Map
Unfortunately, the satellite used by Hansen and GISS didn't have a zoom feature, because if it did, they would have seen the obvious problems that exist at the National Weather Service Coop stations used in their global warming studies.
We have all seen Anthony Watts' Happy Camp Ranger Station where NASA's lights = 0, but air conditioners within 100 feet of the temperature station = 22. Not to mention the blacktop, buildings and trees.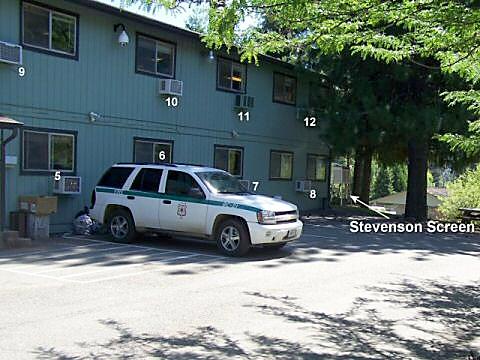 How Not to Measure Temperaturel
5 of the temperature stations that were surveyed by KBSF are GISS "lights = 0" stations. Hansen's "lights = 0" stations in New England are not as bad as Happy Camp but all are in violation of National Weather Service guidelines for station sites.
Acadia National Park, ME
GISS #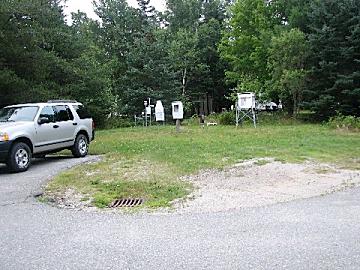 NWS violations completely surround this lights = 0 station, whether it's trees, pavement or cars.
First Connecticut Lake, NH
GISS #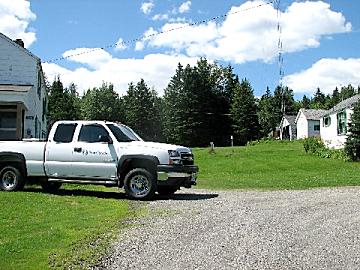 The operator of this site told my volunteer that the temperature at this MMTS is 1 – 2 degrees warmer than at the Nimbus station that is 100 yards away in the same field. He thinks it has something to do with the wind that is blown upslope from the direction of the highway and funneled between the house on the left and the cottages on the right. The temperature difference could also be from light reflected by the cottages or even bad equipment.
Cavendish, VT
GISS #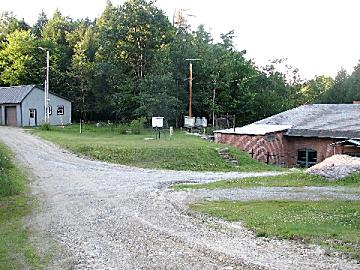 NASA Satellites didn't see any lights at this temperature station, nor did it see the large transformer grid, the concrete slab in front of the station, the trees and buildings that are too close or the roof of the power plant that is 13 feet away.
Cornwall, VT
GISS #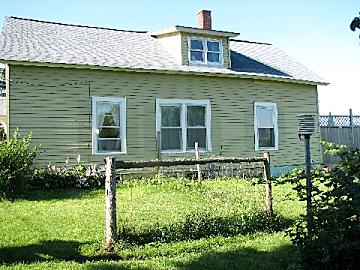 NWS Site Guidelines for temperature stations require that the distance from structures and trees are at least 4 times the height of the structure or trees. This site was approved by the NWS despite the house on one side and the trees on the other which are all too close.
Northfield, VT
GISS #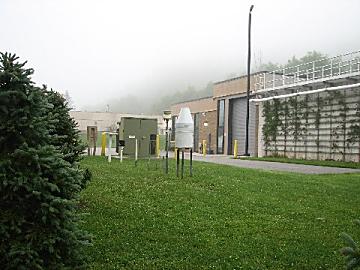 Lights = 0.
Trees = a few.
Concrete, pavement, electrical and gas powered equipment = plenty.
Knowing the cause of "man made" global warming = priceless.
©
Kristen Byrnes
and Ponder the Maunder - All Rights Reserved. Reprinted on GlobalWarmingHoax.com with Permission.