»
UAH Global Temperature Update for September, 2017: +0.54 deg. C


The Version 6.0 global average lower tropospheric temperature (LT) anomaly for September, 2017 was +0.54 deg. C, up from the August, 2017 value of +0.41 deg. C (click for full size version): The global, hemispheric, and tropical LT anomalies from the 30-year (1981-2010) average for the last 21 months are: YEAR MO GLOBE NHEM. SHEM. […]

»
The Monty Hall Problem: There Is No Correct Answer


A diversion from global warming topics. The simple little probability problem below has apparently b ...

»
The 11-Year Major Hurricane Drought: Much More Unusual than Two Cat 4 Strikes


Weather.com published an article noting that the two Cat 4 hurricane strikes this year (Harvey and I ...

»
Cracks in the Empire's Armor Appear


Yesterday brought widespread news coverage of a new "study" published in Nature Geoscien ...

»
Inevitable Disaster: Why Hurricanes Can't Be Blamed On Global Warming


Partly in response to the crazy claims of the usual global warming experts (Stevie Wonder, Beyonc ...

»
UAH Global Temperature Update for August, 2017: +0.41 deg. C


The Version 6.0 global average lower tropospheric temperature (LT) anomaly for August, 2017 was +0.4 ...

»
Houston Area Flooding Seen from Space


Today the skies cleared enough to see the huge amount of water flowing out of southeast Texas and Ho ...

»
Texas Major Hurricane Intensity Not Related to Gulf Water Temperatures


As the Houston flood disaster is unfolding, there is considerable debate about whether Hurricane Har ...

»
Why Houston Flooding Isn't a Sign of Climate Change


In the context of climate change, is what we are seeing in Houston a new level of disaster which is ...

»
Hurricane Harvey: 1 Million Hiroshima Bombs per Day


Mother Nature routinely deals with huge amounts of energy. In the case of hurricanes, some of the so ...

Posted by Anonymous
I would like to suggest you to use freeware OST to[more ...]
10/22 22:44

Posted by Anonymous
[ REQUIRES ADMIN APPROVAL ]
10/21 12:59

Posted by Anonymous
good article.. click
10/20 23:10

Posted by Anonymous
What you are doing deserves great praise, perhaps [more ...]
10/20 06:44

Posted by Anonymous
Thanks for the great site, here I found not only c[more ...]
10/20 06:36

Posted by Anonymous
A good and informative topic of this site, I belie[more ...]
10/20 06:35

Posted by Anonymous
I liked discussing this issue in your forum, I als[more ...]
10/20 06:33

Posted by Bella Swella
For long time, I have been looking for a conversio[more ...]
10/20 06:14

Posted by Maria Hirthe
Want to know to how to import email from Outlook t[more ...]
10/20 06:06

Posted by Anonymous
[ REQUIRES ADMIN APPROVAL ]
10/20 05:58

License Plate Frames
Support the Truth


"SKEPTIC"




"It`s Natural"




"Liberty"

* MORE *
Strong and durable metal license plate holder. Uses full color high resolution images. UV and Water Protection. Satisfaction Guaranteed

You can now visit us on your mobile phone! Simply goto http://GlobalWarmingHoax.com on your mobile phone or PDA to get started!
Follies in Measuring Global Warming III
Hansen's Lights = 0 Temperature Stations In New England
Once upon a time James Hanson and co-workers at NASA's Goddard Institute for Space Studies (GISS) had a bright idea (pardon the pun) on how to separate urban temperature stations from rural temperature stations. Scientists needed to eliminate the heat island effect from urban stations. NASA satellites were used to get photos of the Earth at nighttime, showing where people have lights near homes, buildings, and streets. This is how NASA GISS was able to locate rural and urban temperature stations. By comparing the rural and urban temperatures, NASA GISS could make adjustments to the temperature record.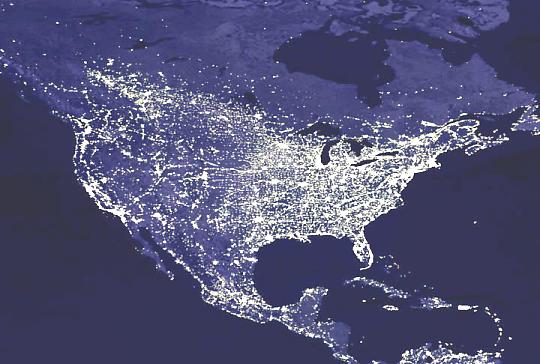 NASA Urban Light Map
Unfortunately, the satellite used by Hansen and GISS didn't have a zoom feature, because if it did, they would have seen the obvious problems that exist at the National Weather Service Coop stations used in their global warming studies.
We have all seen Anthony Watts' Happy Camp Ranger Station where NASA's lights = 0, but air conditioners within 100 feet of the temperature station = 22. Not to mention the blacktop, buildings and trees.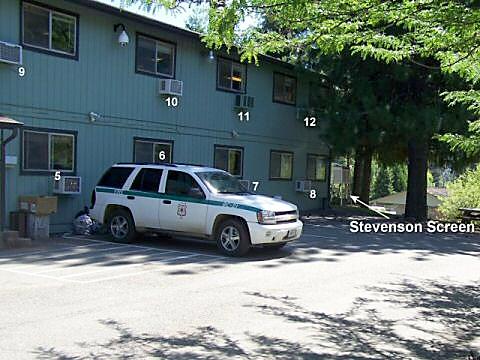 How Not to Measure Temperaturel
5 of the temperature stations that were surveyed by KBSF are GISS "lights = 0" stations. Hansen's "lights = 0" stations in New England are not as bad as Happy Camp but all are in violation of National Weather Service guidelines for station sites.
Acadia National Park, ME
GISS #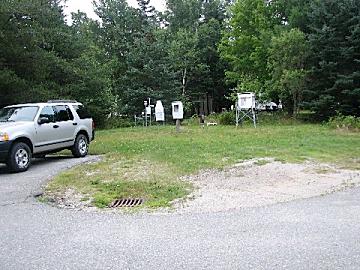 NWS violations completely surround this lights = 0 station, whether it's trees, pavement or cars.
First Connecticut Lake, NH
GISS #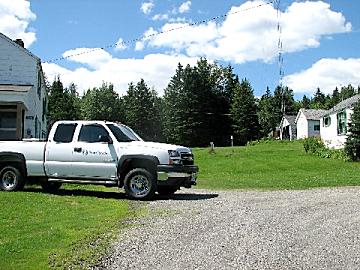 The operator of this site told my volunteer that the temperature at this MMTS is 1 – 2 degrees warmer than at the Nimbus station that is 100 yards away in the same field. He thinks it has something to do with the wind that is blown upslope from the direction of the highway and funneled between the house on the left and the cottages on the right. The temperature difference could also be from light reflected by the cottages or even bad equipment.
Cavendish, VT
GISS #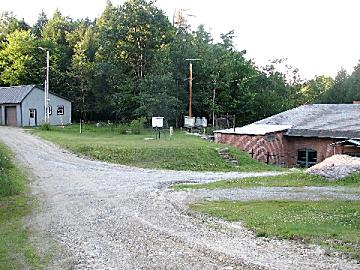 NASA Satellites didn't see any lights at this temperature station, nor did it see the large transformer grid, the concrete slab in front of the station, the trees and buildings that are too close or the roof of the power plant that is 13 feet away.
Cornwall, VT
GISS #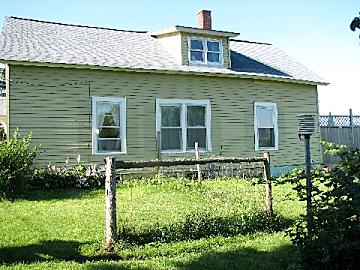 NWS Site Guidelines for temperature stations require that the distance from structures and trees are at least 4 times the height of the structure or trees. This site was approved by the NWS despite the house on one side and the trees on the other which are all too close.
Northfield, VT
GISS #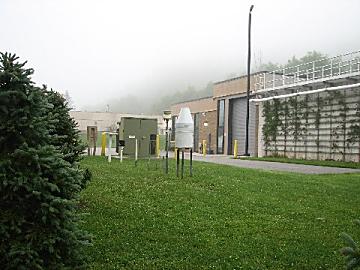 Lights = 0.
Trees = a few.
Concrete, pavement, electrical and gas powered equipment = plenty.
Knowing the cause of "man made" global warming = priceless.
©
Kristen Byrnes
and Ponder the Maunder - All Rights Reserved. Reprinted on GlobalWarmingHoax.com with Permission.