Global Warming Hoax News From Around the WebWorld Climate Report
»
A Classic Tale of Global Warming Alarmism
»
More Evidence Against a Methane Time Bomb
»
Agriculture: Tropical Cyclones are Welcome Visitors
»
Sea Level Acceleration: Not so Fast
»
Hansen Is Wrong
»
Earth's Carbon Sink Still Strong and Growing
»
Wild Speculation on Climate and Polar Bears
»
Illiteracy at NASA
»
The Heat Was On—Before Urbanization and Greenhouse Gases
»
What's to Blame for the Rains on the Plains?
***
NewsBusters - Global Warming
»
CNN's Blitzer: 'I Don't Remember' Biden's Law School Plagiarism
»
CNN's Chetry: 'Please Tell Me It's Not Lipstick Again'
»
MRC Report Asks: Why No Fairness Doctrine for PBS?
***
Science and Public Policy Institute
»
Growth Rates of Old Versus Young Forest Trees
»
Water Use Efficiency of Agricultural Species
»
Tropical Trees
»
Global Temperatures and Biospheric Productivity
»
Rewriting Sunspot History
»
Analysis of the Second Order Draft of the Working I Contribution to IPCC 5AR
»
The Economics of Biofuels
»
The Warming-Induced Evolution of Terrestrial Plants
»
Medieval Warm Period in Southern Europe
»
Effects of Elevated C02 on the Stomatal Conductance of Agricultural Crops
»
Response of Various Marine Animals to Ocean Warming
»
Medieval Warm Period in Central Europe
»
Growth Response of Grassland Species to Elevated C02 When Water Stressed
»
Effects of Increased C02 on Herbaceous Plant Pests
»
Medieval Warm Period in Northern Europe
»
Loblolly Pines Defy the Progressive Nitrogen Hypothesis
»
Response of Crustaceans to Ocean Warming
»
Energy Inefficiencies of Biofuels
»
Response of Marine Plants to Changes in Temperature
»
Biofuels: The Carbon Debt They Owe
»
Medieval Warm Period in Japan
»
Response of Corals to Ocean Acidification
»
Interactive Effects of C02 and Water Stress on the Growth of Woody Plant Species
»
Biofuels: Land and Water Concerns
»
Medieval Warm Period in Upper North America
***
Climate Science: Roger Pielke Sr. Research Group
»
Roger Pielke Sr. is now on Twitter!
»
2012 Climate Science Weblog in Review by Dallas Jean Staley – A Guest Post
»
The Weblog Is Retiring
»
Publication Of "Reply to "Comment On 'Ocean Heat Content And Earth's Radiation Imbalance. II. Relation To Climate Shifts' " by Nuccitelli Et Al. By Douglass and Knox 2012
»
Q&A From A Group Of Retired NASA Personnel And Associates
»
The Importance of Land Use/Land Practices On Climate – A Perspective From Jon Foley
»
Interview With James Wynn In The English Department At Carnegie Mellon University
»
University Of Alabama At Huntsville October 2012 Lower Tropospheric Temperature Analysis
»
USA Election Day 2012
»
New Paper "Climatic Variability Over Time Scales Spanning Nine Orders of Magnitude: Connecting Milankovitch Cycles With Hurst–Kolmogorov Dynamics" By Markonis And Koutsoyiannis
***
»
The Kaufman Tautology
»
Warmest since, uh, the Medieval Warm Period
»
The Third Warmest Arctic Century
»
Gavin Schmidt and the EPA Denial Decision
»
Millennial Quebec Tree Rings
»
Decomposing Paico
»
New Article on Igaliku
»
PAGES2K vs the Hanhijarvi Reconstruction
»
PAGES2K: More Upside Down?
»
Okshola: which way is up?
***
Watts Up With That?
»
Splicing Clouds
»
Quote of the Week – climate fears in context
»
Violent Tornadoes Are On The Decline In The US
»
Satellite captures massive smoke and haze over china
»
The 2014/15 El Niño – Part 19 – Is an El Niño Already Taking Place?
»
Warmth is Good; Cold is the Killer
»
2014 Antarctic Ozone Hole Holds Steady
»
New Paper on Sea Level Rise – Purkey et al (2014) – Examines the Sea Level Rise by Basin
»
New paper links warming since 1950 to ENSO and cloud cover variations
»
The Weather Channel pushes back against John Coleman
»
U.S. Military caves to endless global warming attack
»
Magnetism and Weather: Interconnections?
***
Global Warming News
»
Decline in Violent Tornadoes: Blame Global Warming?
»
Kemper CCS Project: 3 Years Behind, $3.9 Billion Over Budget. How's that for 'adequately demonstrated'?
»
EPA's Clean Power Plan Targets for Virginia: Unlawful Six Ways
»
NRDC Left with Egg on Face as "Laughable" Lawsuit Proceeds against Proposed Clean Power Plan
»
Which Is the Bigger Threat to People in Developing Countries: Climate Change or Energy Poverty?
»
"Topsy-Turvy" Clean Power Plan Could "Substantially" Raise Electric Bills — Virginia State Corporate Commission
»
EPA's Clean Power Plan: Huge Electric Sector Impacts, Undetectably Small Climate Benefits — Study
»
The Divestment Movement's Heart of Darkness
»
EPA's Clean Power Plan: Strategy for One-Party Rule? (Updated 10-17-2014)
»
Will eBay Stand with ALEC?
***
Fox News - Climate Change Stories
***
Michelle Malkin - Enviro-Nitwits
»
Fanboy of scare monger Al Gore accuses conservative of scare mongering about Ebola
»
Of course: Guess what might be to blame for the first ever diagnosis of Ebola in US
»
Inconvenient weightlessness: Latest scare tactic highlights gravity of 'climate crisis' desperation
»
Obama fires up Air Force One, Marine One, huge motorcade to deliver climate change warning at UN
»
Wow, Al Gore has lost so much weight that he makes a Prius look like a Chevy Suburban SUV
***
DailyTech Michael Asher`s blog
»
Will the Real Antarctica Please Stand Up?
»
Global Warming May Decrease Hurricanes, Research Suggests
»
Japanese Report Disputes Human Cause for Global Warming
»
Sea Ice Ends Year at Same Level as 1979
»
A Funny Thing Happened on the Way to the (Climate) Forum
»
Climate Report Downgrades Ice Loss; Media Reports Opposite
»
Princeton Physicist Calls Global Warming Science "Mistaken"
»
Defying Predictions, Sea Level Rise Begins to Slow
»
Electric Car Sales in Freefall; Industry Risks Collapse
»
Glaciers in Norway Growing Again
***
C3 - Climate Cycles Change
»
Don't Worry ===> "Catastrophic" Global Warming In 2 Graphs ===> Be Happy!
»
New Research Finds Cloud Coverage Driving Modern Global Temperatures, Not Greenhouse Gases
»
Climate headlines from other sources this past week...
»
What About Those New EU CO2 Reduction Goals? Per The Numbers, Global Temps Not Impacted
»
Per NASA/GISS: Global Warming Robustly Decelerates, Climate Change From CO2 Disappears
»
Those Stubborn Facts: By 2050, Global Sea Level Increases May Range From 1.8" To 3.2"
»
"Hottest" Year? If So, The World's Major Food Crops Are Simply Loving It, Per The USDA
»
The Renewable Ears Market Potential: Low Frequency Noise From Wind Turbines Potentially Harmful Long-Term
»
Climate headlines from other sources this past week...
»
Americans Vote: Climate Change & Global Warming Still Not Important
»
CO2's Impact On Global Temperature Trends: Minimal To Non-Existent, Per IPCC's Gold-Standard
»
Peer-Reviewed Study: Canadian Climate Warming - Not So Much, eh?
»
Climate headlines from other sources this past week...
»
Can The All-Electric Nissan Leaf Save The World From A 0.01 Degree Warming? Yep & It Would Only Cost $40+ Trillion
»
After 20 Years of Cumulative CO2 Growth, Global Warming Trend Creeps Towards +0.38°C by 2050AD
***
CATO - Global Warming
***
CanadaFreePress - Global Warming
***
More Global Warming Hoax News Feeds

---
Since Exxon Hasn't Sent Us Our First Million Dollars Yet You're Welcome To Help Pay Our Bills Until They Do.











Posted by  The statement is a
  /  The other week, we saw the top player ranking[more ...]
10/01 02:26

Posted by Anonymous
Search AGWunveiled to discover the two drivers tha[more ...]
08/18 07:00

Posted by Anonymous
[ REQUIRES ADMIN APPROVAL ]
07/28 02:48

Posted by Anonymous
Yes
07/25 01:42

Posted by Joel Carlson
What do all the green plants on earth need to prod[more ...]
07/17 12:10

Posted by Anonymous
http://cpubuilds.com offers some insight into glob[more ...]
06/15 13:46

Posted by Anonymous
Global warming - this is old news for everyone! I [more ...]
02/27 12:28

Posted by Anonymous
Interesting blog about Global Warming in space. Th[more ...]
02/22 09:27

Posted by Anonymous
I want to thank you for this wonderful blog. And I[more ...]
02/22 08:21

Posted by Anonymous
Interesting blog about climate and global warming.[more ...]
02/22 08:18

License Plate Frames
Support the Truth


"SKEPTIC"




"It`s Natural"




"Liberty"

* MORE *
Strong and durable metal license plate holder. Uses full color high resolution images. UV and Water Protection. Satisfaction Guaranteed

You can now visit us on your mobile phone! Simply goto http://GlobalWarmingHoax.com on your mobile phone or PDA to get started!
Follies in Measuring Global Warming III
Hansen's Lights = 0 Temperature Stations In New England
Once upon a time James Hanson and co-workers at NASA's Goddard Institute for Space Studies (GISS) had a bright idea (pardon the pun) on how to separate urban temperature stations from rural temperature stations. Scientists needed to eliminate the heat island effect from urban stations. NASA satellites were used to get photos of the Earth at nighttime, showing where people have lights near homes, buildings, and streets. This is how NASA GISS was able to locate rural and urban temperature stations. By comparing the rural and urban temperatures, NASA GISS could make adjustments to the temperature record.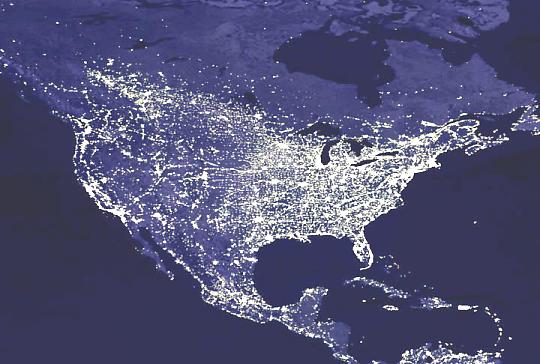 NASA Urban Light Map
Unfortunately, the satellite used by Hansen and GISS didn't have a zoom feature, because if it did, they would have seen the obvious problems that exist at the National Weather Service Coop stations used in their global warming studies.
We have all seen Anthony Watts' Happy Camp Ranger Station where NASA's lights = 0, but air conditioners within 100 feet of the temperature station = 22. Not to mention the blacktop, buildings and trees.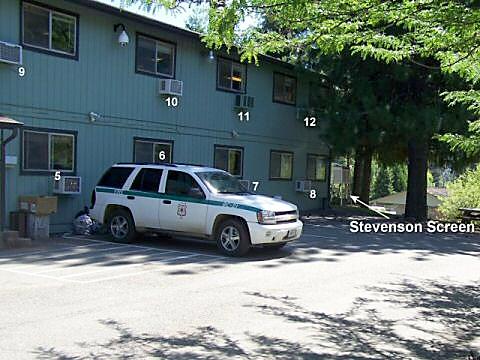 How Not to Measure Temperaturel
5 of the temperature stations that were surveyed by KBSF are GISS "lights = 0" stations. Hansen's "lights = 0" stations in New England are not as bad as Happy Camp but all are in violation of National Weather Service guidelines for station sites.
Acadia National Park, ME
GISS #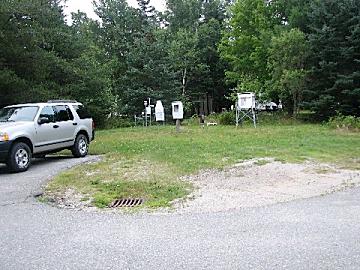 NWS violations completely surround this lights = 0 station, whether it's trees, pavement or cars.
First Connecticut Lake, NH
GISS #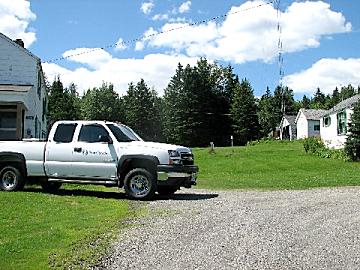 The operator of this site told my volunteer that the temperature at this MMTS is 1 – 2 degrees warmer than at the Nimbus station that is 100 yards away in the same field. He thinks it has something to do with the wind that is blown upslope from the direction of the highway and funneled between the house on the left and the cottages on the right. The temperature difference could also be from light reflected by the cottages or even bad equipment.
Cavendish, VT
GISS #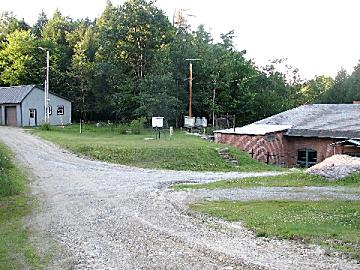 NASA Satellites didn't see any lights at this temperature station, nor did it see the large transformer grid, the concrete slab in front of the station, the trees and buildings that are too close or the roof of the power plant that is 13 feet away.
Cornwall, VT
GISS #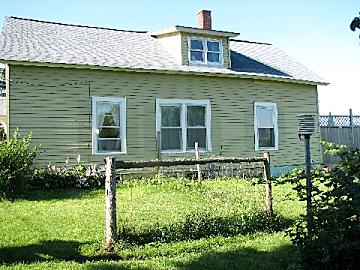 NWS Site Guidelines for temperature stations require that the distance from structures and trees are at least 4 times the height of the structure or trees. This site was approved by the NWS despite the house on one side and the trees on the other which are all too close.
Northfield, VT
GISS #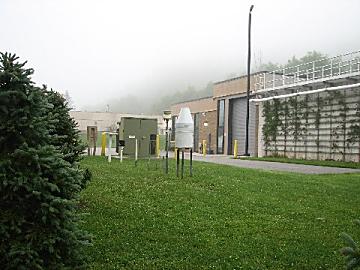 Lights = 0.
Trees = a few.
Concrete, pavement, electrical and gas powered equipment = plenty.
Knowing the cause of "man made" global warming = priceless.
©
Kristen Byrnes
and Ponder the Maunder - All Rights Reserved. Reprinted on GlobalWarmingHoax.com with Permission.