»
Climatologist Dr. Pat Michaels: 'When Will Climate Scientists Say They Were Wrong?'


'Day after day, year after year, the hole that climate scientists have buried themselves in ge ...

»
Warmists Try Once Again to Ban Morano From TV! 'Don't book individuals that deny…such as Marc Morano'


Warmist group Forecast the Facts: 'Eternal Word Television Network (ETWN) just invited notorious cli ...

»
NBC Continues Media Push Blaming Flooding in Texas, Drought in California on Climate Change

»
Al Sharpton Asks If God Is Punishing Texas With Torrential Rains, Flooding


Sharpton Tweet: 'Do you think the #TexasFlooding is related to climate control or God's rebuke?'

»
Santorum: 'The idea that the science is settled, to me, tells me that this is political science, not real science'


"I always have problems when people come up and say the science is settled," said Santorum, a Republ ...

»
Are Sea Levels Really Rising Faster Than Ever? 'The study's own data seems to refute'


The study itself notes that its estimates of a sea level acceleration aren't "significantly differen ...

»
'Are climate scientists influenced by skeptics?'

»
Warmist: 'As weather bounces between record extremes, what say the climate-change deniers?'

»
Paper: 'Are There Any Evils Global Warming Is Not Responsible For?'

»
Bill Nye is pretty sure that the Texas storm was caused by global warming

»
TRMM Satellite Coming Home Next Month


NASA's Tropical Rain Measuring Mission, the first satellite to carry a rain radar, has been on ...

»
New Satellite Upper Troposphere Product: Still No Tropical "Hotspot"


One of the most vivid predictions of global warming theory is a "hotspot" in the tropica ...

»
Iraq's Largest Oil Refinery Still Burning After 5 Weeks


The latest NASA MODIS satellite imagery from today shows that the huge Baiji oil complex continues t ...

»
Nearly 3,500 Days Since Major Hurricane Strike… Despite Record High CO2


As Subtropical Storm Ana churns off the southeast U.S. coast, the global atmosphere has exceeded 400 ...

»
Mystery Climate Index #2 Explanation


Yesterday I presented this time series of climate data and asked if anyone could determine any physi ...

»
Magical Mystery Climate Index #2


A little over a year ago I posted a climate riddle of sorts: a time series that showed warming, then ...

»
This EcoNonsense Has To Stop


I was watching a Ford commercial last night that highlighted their "EcoBoost" engine technology, whi ...

»
UAH V6.0 Global Temperature Update for April, 2015: +0.07 deg. C


NOTE: This is the first montly update with our new Version 6.0 dataset. Differences versus the old V ...

»
Is North Korea Cutting Down All Its Trees?


A secretive government can lie about many things, but it can't hide its landscape from Earth o ...

»
Version 6.0 of the UAH Temperature Dataset Released: New LT Trend = +0.11 C/decade


by Roy W. Spencer, John R. Christy, and William D. Braswell (a PDF version of this post is available ...

Posted by Anonymous
[quote][quote]You put certainly revolutionary idea[more ...]
05/14 11:08

Posted by Anonymous
Anonymous wrote ...You put certainly revolutionary[more ...]
05/12 23:28

Posted by Anonymous
[quote]You put certainly revolutionary ideas in th[more ...]
05/12 23:27

Posted by Anonymous
[quote]You put certainly revolutionary ideas in th[more ...]
05/12 23:25

Posted by Anonymous
[quote]You put certainly revolutionary ideas in th[more ...]
05/12 23:24

Posted by Anonymous
You put certainly revolutionary ideas in the post.[more ...]
05/12 06:06

Posted by Michael Bay
Have you guys ever considered the fact that maybe [more ...]
05/04 12:00

Posted by Anonymous
S L U T
05/04 11:22

Posted by Anonymous
[censored]
05/04 11:17

Posted by Bruce Norris
Great examine post! That's most significant detail[more ...]
04/05 23:52

License Plate Frames
Support the Truth


"SKEPTIC"




"It`s Natural"




"Liberty"

* MORE *
Strong and durable metal license plate holder. Uses full color high resolution images. UV and Water Protection. Satisfaction Guaranteed

You can now visit us on your mobile phone! Simply goto http://GlobalWarmingHoax.com on your mobile phone or PDA to get started!
Follies in Measuring Global Warming III
Hansen's Lights = 0 Temperature Stations In New England
Once upon a time James Hanson and co-workers at NASA's Goddard Institute for Space Studies (GISS) had a bright idea (pardon the pun) on how to separate urban temperature stations from rural temperature stations. Scientists needed to eliminate the heat island effect from urban stations. NASA satellites were used to get photos of the Earth at nighttime, showing where people have lights near homes, buildings, and streets. This is how NASA GISS was able to locate rural and urban temperature stations. By comparing the rural and urban temperatures, NASA GISS could make adjustments to the temperature record.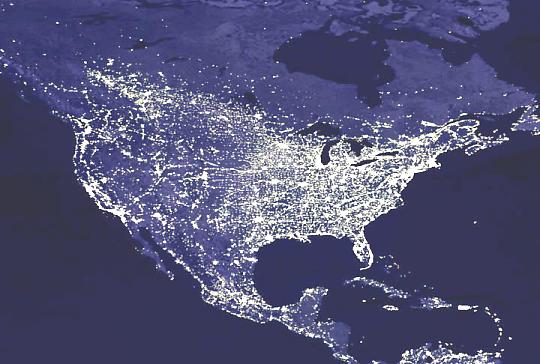 NASA Urban Light Map
Unfortunately, the satellite used by Hansen and GISS didn't have a zoom feature, because if it did, they would have seen the obvious problems that exist at the National Weather Service Coop stations used in their global warming studies.
We have all seen Anthony Watts' Happy Camp Ranger Station where NASA's lights = 0, but air conditioners within 100 feet of the temperature station = 22. Not to mention the blacktop, buildings and trees.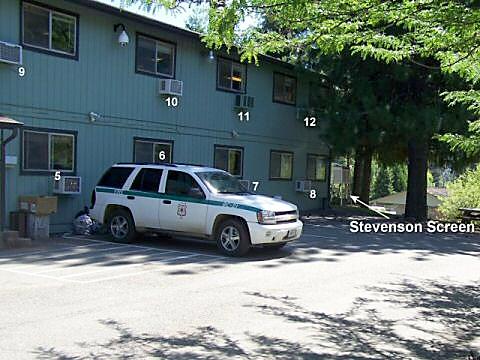 How Not to Measure Temperaturel
5 of the temperature stations that were surveyed by KBSF are GISS "lights = 0" stations. Hansen's "lights = 0" stations in New England are not as bad as Happy Camp but all are in violation of National Weather Service guidelines for station sites.
Acadia National Park, ME
GISS #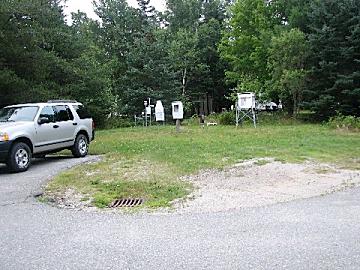 NWS violations completely surround this lights = 0 station, whether it's trees, pavement or cars.
First Connecticut Lake, NH
GISS #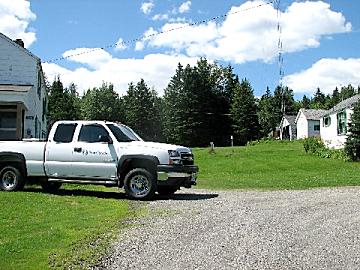 The operator of this site told my volunteer that the temperature at this MMTS is 1 – 2 degrees warmer than at the Nimbus station that is 100 yards away in the same field. He thinks it has something to do with the wind that is blown upslope from the direction of the highway and funneled between the house on the left and the cottages on the right. The temperature difference could also be from light reflected by the cottages or even bad equipment.
Cavendish, VT
GISS #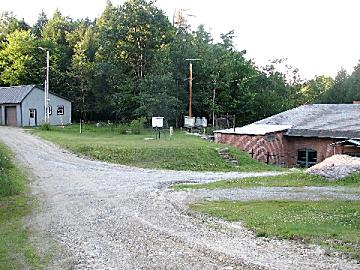 NASA Satellites didn't see any lights at this temperature station, nor did it see the large transformer grid, the concrete slab in front of the station, the trees and buildings that are too close or the roof of the power plant that is 13 feet away.
Cornwall, VT
GISS #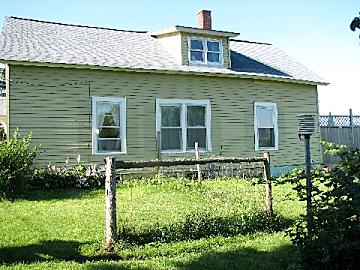 NWS Site Guidelines for temperature stations require that the distance from structures and trees are at least 4 times the height of the structure or trees. This site was approved by the NWS despite the house on one side and the trees on the other which are all too close.
Northfield, VT
GISS #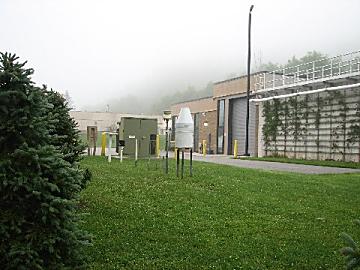 Lights = 0.
Trees = a few.
Concrete, pavement, electrical and gas powered equipment = plenty.
Knowing the cause of "man made" global warming = priceless.
©
Kristen Byrnes
and Ponder the Maunder - All Rights Reserved. Reprinted on GlobalWarmingHoax.com with Permission.