»
Solar Impulse: Poster Child for the Impracticality of Solar Power


Solar energy has some legitimate uses in isolated cases, such as providing electricity where there i ...

»
Record Warm 2016? What a Difference One Month Makes


With the rapid cooling now occurring in the global average tropospheric temperature, my previous pre ...

»
UAH Global Temperature Update for June 2016: +0.34 deg. C


Second largest 2-month drop in global average satellite temperatures. Largest 2-month drop in tropic ...

»
More on the Global Climate Emergency: Email from a "Fan"


I get some hate email from time to time. Actually, not very much. I guess I'm still cruising u ...

»
"Climate System Scientist" Claims Jet Stream Crossing the Equator is Unprecedented


Paul Beckwith has a masters degree in laser optics, which he has somehow parlayed into being a "Climate System Scientist" to spread alarmism about the climate system. But his post "Unprecedented, Jet Stream Crosses Equator" suggests he knows little of meteorology, let alone climate. A "jet stream" in the usual sense of the word is […]

»
2016 Will Likely See Record Global Warmth in Satellite Data


…but the approaching La Nina might extend the global warming pause to 20 years. Even though gl ...

»
If Skeptics can be Prosecuted for Fraud, So can Alarmists


I'm glad to see this news report today, and I've been saying the same thing ever since t ...

»
No, Spencer's Research Wasn't Funded by Peabody


My vacation this week was interrupted this morning by some hate e-mail…apparently, the recent ...

»
Another Potential Reason Why Climate Sensitivity is Over-Estimated


BACKGROUND It's been quite a while since I've discussed why the diagnosis of feedbacks i ...

»
UAH Global Temperature Update for May, 2016: +0.55 deg. C


NOTE: This is the fourteenth monthly update with our new Version 6.0 dataset. Differences versus the ...

Posted by Anonymous
It is said that when playing CSGO games.Having the[more ...]
07/21 00:18

Posted by Anonymous
< Global Offensive > is a sequel to the distinc[more ...]
07/21 00:17

Posted by HaHa
< Global Offensive > is a sequel to the distinc[more ...]
07/21 00:15

Posted by Anonymous
This article can tell you recover deleted photos f[more ...]
07/17 18:49

Posted by Anonymous
You can try this android data recovery to recover [more ...]
07/17 18:46

Posted by Anonymous
This article may be helpful to you: recover delete[more ...]
07/17 18:43

Posted by Anonymous
Sometimes it happens that we mistakenly delete som[more ...]
07/13 20:34

Posted by aaronbaker
Anonymous wrote ...I have a similar experience. Tw[more ...]
07/04 19:26

Posted by Anonymous
I have a similar experience. Two months ago I dele[more ...]
07/04 02:45

Posted by Anonymous
That was truly amazing post thanks for share this [more ...]
07/02 06:13

License Plate Frames
Support the Truth


"SKEPTIC"




"It`s Natural"




"Liberty"

* MORE *
Strong and durable metal license plate holder. Uses full color high resolution images. UV and Water Protection. Satisfaction Guaranteed

You can now visit us on your mobile phone! Simply goto http://GlobalWarmingHoax.com on your mobile phone or PDA to get started!
Follies in Measuring Global Warming III
Hansen's Lights = 0 Temperature Stations In New England
Once upon a time James Hanson and co-workers at NASA's Goddard Institute for Space Studies (GISS) had a bright idea (pardon the pun) on how to separate urban temperature stations from rural temperature stations. Scientists needed to eliminate the heat island effect from urban stations. NASA satellites were used to get photos of the Earth at nighttime, showing where people have lights near homes, buildings, and streets. This is how NASA GISS was able to locate rural and urban temperature stations. By comparing the rural and urban temperatures, NASA GISS could make adjustments to the temperature record.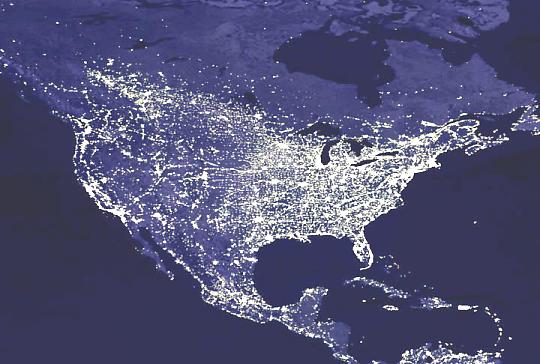 NASA Urban Light Map
Unfortunately, the satellite used by Hansen and GISS didn't have a zoom feature, because if it did, they would have seen the obvious problems that exist at the National Weather Service Coop stations used in their global warming studies.
We have all seen Anthony Watts' Happy Camp Ranger Station where NASA's lights = 0, but air conditioners within 100 feet of the temperature station = 22. Not to mention the blacktop, buildings and trees.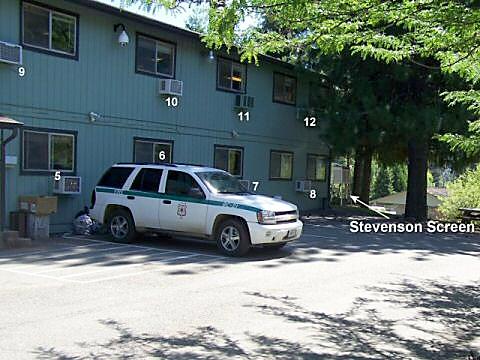 How Not to Measure Temperaturel
5 of the temperature stations that were surveyed by KBSF are GISS "lights = 0" stations. Hansen's "lights = 0" stations in New England are not as bad as Happy Camp but all are in violation of National Weather Service guidelines for station sites.
Acadia National Park, ME
GISS #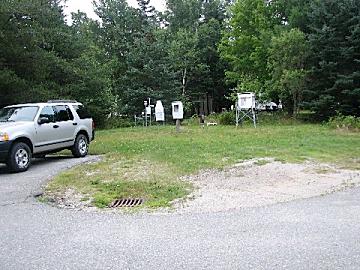 NWS violations completely surround this lights = 0 station, whether it's trees, pavement or cars.
First Connecticut Lake, NH
GISS #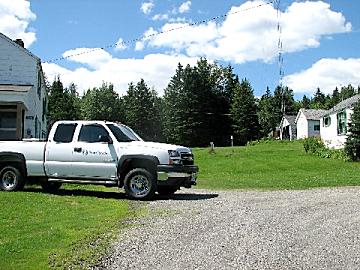 The operator of this site told my volunteer that the temperature at this MMTS is 1 – 2 degrees warmer than at the Nimbus station that is 100 yards away in the same field. He thinks it has something to do with the wind that is blown upslope from the direction of the highway and funneled between the house on the left and the cottages on the right. The temperature difference could also be from light reflected by the cottages or even bad equipment.
Cavendish, VT
GISS #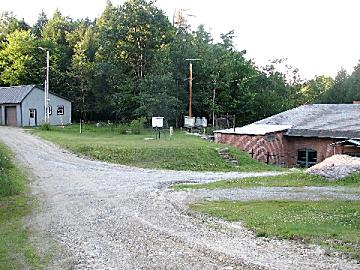 NASA Satellites didn't see any lights at this temperature station, nor did it see the large transformer grid, the concrete slab in front of the station, the trees and buildings that are too close or the roof of the power plant that is 13 feet away.
Cornwall, VT
GISS #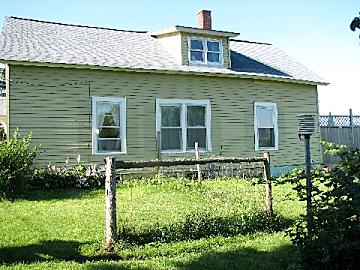 NWS Site Guidelines for temperature stations require that the distance from structures and trees are at least 4 times the height of the structure or trees. This site was approved by the NWS despite the house on one side and the trees on the other which are all too close.
Northfield, VT
GISS #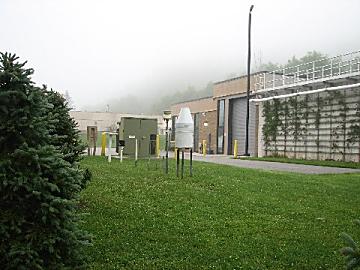 Lights = 0.
Trees = a few.
Concrete, pavement, electrical and gas powered equipment = plenty.
Knowing the cause of "man made" global warming = priceless.
©
Kristen Byrnes
and Ponder the Maunder - All Rights Reserved. Reprinted on GlobalWarmingHoax.com with Permission.